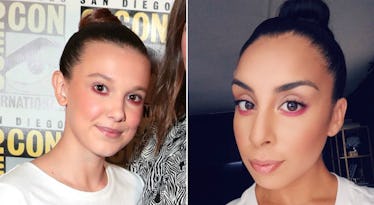 I Copied Millie Bobby Brown's Upside Down Eyeshadow & I Guess Stranger Things Have Happened
Eric Charbonneau/Shutterstock // Stephanie Montes
I follow a bunch of celebrities on Instagram — it's my job. I need to stay up to date on their latest fashion and beauty looks to share with all of you. But for the most part, celebrities go for fresh, dewy, gorgeous makeup looks, which sounds great, but where's the creativity? I live for a good glitter moment, a statement lip, or an over-the-top eyeshadow look, but I don't come across them too often. Thankfully, Millie Bobby Brown's upside down eyeshadow look popped up on my feed, and it's giving me so much life right now. So, I did what any other beauty junkie would do: I copied the look.
This is such a different look than I usually do. Granted, I'm not afraid of color, especially when it comes to my eyeshadow. In fact, I actually have a lot of lid space (I know, random), but there's plenty of room there to play with different looks. But a look I've never tried is a colorful under-smoke, (or the "upside down" eyeshadow look if you travel to Hawkins, Indiana, and get sucked into the Upside Down, à la Stranger Things) where you swipe color along the lower lash line.
After I applied a full face of foundation, I made sure to cover all signs of my dark circles. The last thing I need is to add hot pink shadow to my purple-tinted under-eye area. So I hide those dark circles really well before proceeding to copy Millie Bobby Brown's adorable look, courtesy of makeup artist Kelsey Deenihan.
The next thing I did was bake my concealer. If you've never baked your concealer, it's a total game-changer. In case you've been living under a rock, baking your makeup consists of covering your liquid and cream products with a thick coat of loose setting powder and letting it sit for five or so minutes before dusting off excess powder with a fluffy brush. This keeps your makeup in place all day, even if you sweat, have oily skin, or are prone to creasing. I struggle with all of the above, so I wanted the most important part of my makeup look to look good all day.
Also, to make sure my look was completely bulletproof, I skipped the powder eyeshadow and opted for bright eyeliner and a smudger brush. Not only are eyeliners usually more pigmented, but they hold up much longer than powder products. To get that hot pink color, I used two eyeliners: Urban Decay 24/7 Glide-On Eye Pencil in Woodstock ($21; sephora.com) and MAC Chromagraphic Pencil in Process Magenta ($18; maccosmetics.com). I started with the lighter shade by Urban Decay and smudged it with my brush to get that feathered look. Then, little by little, I added more until it was as dramatic as Millie's. Then, with the brighter shade by MAC, I lined my lash line to intensify the color.
Just like Millie Bobby Brown, I kept my lids minimal. To finish the look, I dusted a matte nude shadow from my upper lash line to my brow bone, but my lids looked a bit naked. To make my eyes pop a bit more, I applied a nude shimmer along my top lash line before finishing with mascara.
Finally, I finished my look with a light contour, pink blush, and a super glossy lip. A good rule of thumb for dramatic makeup looks is to keep the focus on a single area. If you have a dramatic eye look, keep the lip simple, and vice versa.
This might've been the first time I tried the upside down eyeshadow look, but it's definitely not the last. Shoutout to Millie Bobby Brown and Kelsey Deenihan for stepping out of the comfort zone (i.e. the top of the eyelid) and thus, helping me step out of my comfort zone. After all, stranger things have happened.