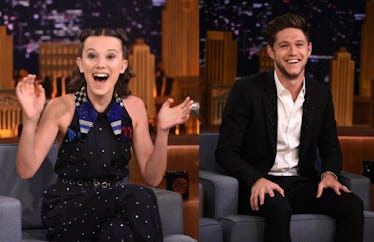 Millie Bobby Brown Fangirled Over Niall Horan & Their Twitter Exchange Is Adorable
Theo Wargo/Getty Images Entertainment/Getty Images
Celebrities: They're just like us. They buy their own groceries, they take the subway, they freak out when a singer from One Direction tweets about them... just like us! I mean if we're being honest, that last one probably won't happen to us anytime soon, but it did for Millie Bobby Brown. And let me tell you, the exchange is the purest thing you'll see all year. Niall Horan took to Twitter to tell his fans that he's finally finished Stranger Things (late to the party much?). Well, the cast saw his tweet, and one star in particular was shook. Millie Bobby Brown fangirled over Niall Horan after exchanging a few back-and-forth tweets, and if you weren't already obsessed with her before, well, you are now.
You might think to yourself, "Wait a second. Millie Bobby Brown was basically the It Girl of 2017, why is she so pumped over this exchange?" Um, because it's Niall Horan, and this is definitive proof that nobody is immune to the powers of One Direction.
And just because you're someone who happens to be famous does not mean you don't absolutely lose it when you encounter someone who you respect or admire. Or think is hot as hell.
Needless to say, I get it.
On Jan. 8, Niall tweeted that he finished the Stranger Things series (about damn time), and said that he'd "never thought [he] would be this obsessed by a show."
Our girl Millie saw the tweet, probably fanned herself, wrote and deleted 100 responses, took a screenshot and sent it to all her 1D-obsessed friends, then casually replied:
Short, sweet, to-the-point. Playing it cool.
But then Niall responded, telling her he "loved it," and called her "darling":
Sorry, Millie can't come to the phone right now because she's too busy fainting from overwhelming lust.
Somehow, she gathered herself up from the floor and tweeted him back, letting her true colors show — that she is, in fact, a true One Direction fan:
Girl, we'd be worried about you if you weren't fangirling over this exchange!
Brown's co-star Gaten Matarazzo, on the other hand, came off way more casual, proving that he cannot only do a sick Chewbacca impression, but that he's got jokes:
And in a separate tweet, he also thanked Niall for watching the series.
Millie is no stranger to exchanges with her idols (considering she's basically Hollywood royalty now, she should get used to meeting some pretty incredible people), and we saw proof of that back in May at the 2017 MTV Movie & TV Awards, when a photo of her meeting Emma Watson stole everyone's hearts.
To be fair, Emma Watson looks just as stoked to be meeting Millie Bobby Brown, so I'm just going to say that these two bad*ss women idolize each other and that almost makes life complete.
Also noteworthy? Brown co-starred with one of her idols in Stranger Things (no, not the Demogorgon). In an interview with Vulture, she talked about her excitement when finally getting to meet actress Winona Ryder. She said,
I was absolutely obsessed with Winona. [Laughs.] I was, like, crazy — I loved her movies. I think she's just so phenomenal. She's a great actress and I loved Girl, Interrupted,Edward Scissorhands, Heathers — amazing films. As soon as I auditioned, they told me Winona was on the project and I was so excited to meet her. Everybody says we look a lot alike. I was just very intrigued — she was a young actress and I could just really, really relate to her in a positive way.
Millie Bobby Brown just slaying evil monsters and meeting her idols... all in a day's work.