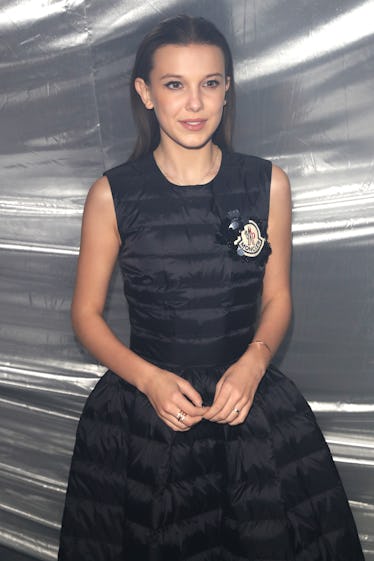 Millie Bobby Brown Wore A Sleeping Bag To Fashion Week & I Need One Right Now
Vittorio Zunino Celotto/Getty Images Entertainment/Getty Images
Every season, Fashion Week always produces some bizarre garments. Most of them are very unwearable, but one designer just changed the game. The fact that Millie Bobby Brown, Hollywood's favorite girl crush, wore the daring piece makes it that much more amazing. Millie Bobby Brown's Moncler puffer dress is what my lazy-girl fashion dreams are made of. It's part ballgown, part sleeping bag — and I want to live in it.
Brown attended Moncler's Milan Fashion Week show and wore a Valentino-designed Moncler dress. Moncler may sound familiar to you, the brand is known for their fancy (read: expensive) winter coats whose prices hardly dip below $1,000 (and can go over $3,000). Moncler doesn't first come to mind when I think of haute couture, but the company is rebranding to be more #fashun and picked eight top designers to create fashion week capsule collections. Valentino's creative director Pierpaolo Piccioli was one of the chosen ones who designed puffer gowns for the models (and Brown) to wear.
In addition to Stranger Things, Brown is known for her glam yet quirky style. It's not entirely shocking that she wore such a unique dress, but I still can't get enough of her in it. She looks fierce, glam, cozy, and comfy AF all at the same time.
As a friendly reminder, Brown turned 14 years old on Feb. 19, 2018. She wore this #lewk on Feb. 20, 2018, and 14 is clearly agreeing with her. When I was 13 and 14, I was wearing Juicy Couture track suits, gaudy charm bracelets, and many other things that I now regret.
Brown's dress had a signature Moncler logo patch decorated with some extra beadwork, because it's Milan fashion week after all. Brown wore Repossi jewelry including stackable rings, a single gold bracelet, and a delicate necklace.
Brown's hair was worn down but slicked back so as not to obscure her beautiful face, I presume. Her nails were painted black to match her dress (and my heart) and it brings a new meaning to goth glam. Brown's beauty look included the tiniest of cat eyes but very little other makeup because, well, she's only 14.
Brown arrived to the show wearing a more relatable Moncler jacket and jeans, you can see photos of Brown's look here.
These are the other puffer dresses that Brown was there to see. Valentino's Piccioli designed many vibrantly colored down dresses, overcoats, and gloves. Brown's must have been custom made for her because the above gowns look to be about twice as tall as she is.
Brown's puffer coat dress is definitely unique, but the actress has also worn some other funky looks in the past. She recently wore a cheerleader-inspired look to the Calvin Klein New York Fashion Week runway show. She rocked a purple velvet pinafore dress over top a white turtleneck, with a white leather motorcycle jacket and white flats - all of which were, naturally, from Calvin Klein.
At the 2017 Screen Actors Guild Awards, Brown wore Converse sneakers! Few people could get away with wearing sneakers to such a formal event, but Brown pulled it off. Her hi-lo pink sequined Calvin Klein dress was also a show-stopper.
This tulle and gold polka dotted Rodarte dress was another funky fashion moment of Brown's. She wore this at the 2017 MTV Video Music Awards with patent leather combat boots and looked like a fairy biker chic.
Brown's look at the 2017 Teen Choice Awards was too cool for school. She wore a pleated yellow Kenzo dress, multicolor Pierre Hardy heels, and Chrome Hearts sunglasses because why not?
Brown has had some epic fashion moments, and I admire her fearlessness in trying out unique looks and standing out in a crowd.
I give her an Eleven/10.