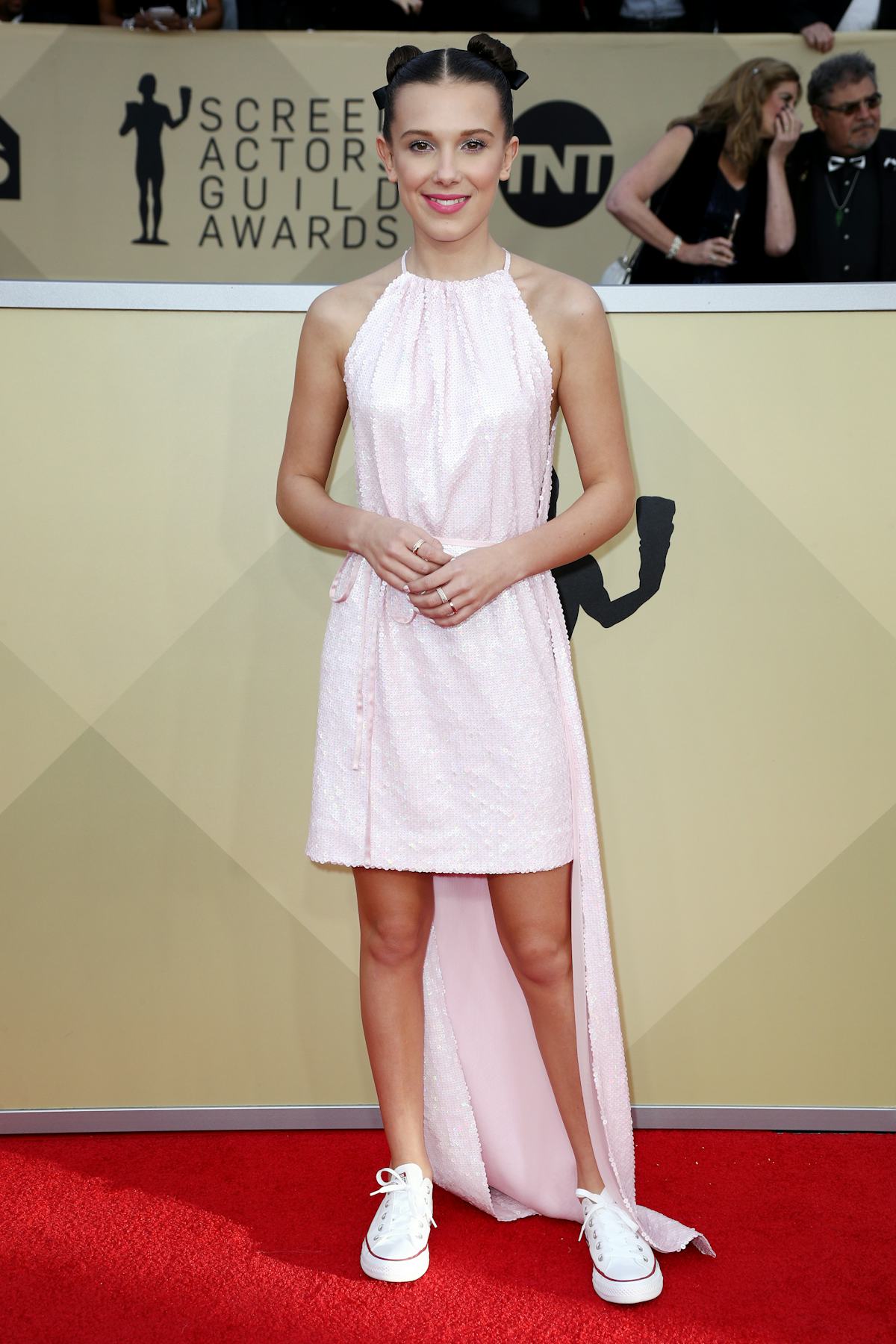 Millie Bobby Brown Just Wore A Mullet-Dress To The SAG Awards & You Have To See It
Frederick M. Brown/Getty Images Entertainment/Getty Images
Millie Bobby Brown is 13 years old and a national treasure. Not only is she the Meryl Streep of the Post-Milennial generation (as is evidenced by her numerous Best Actress nominations and wins), she's also the biggest trendsetter for the younger set. Millie Bobby Brown's 2018 SAG Awards dress is fun meets black-tie, proving that teenage fashion can be chic and age-appropriate.
Millie Bobby Brown took the world by storm in July of 2016 with her portrayal of Eleven in the addicting, binge-watching-inducing hit sci-fi series, Stranger Things. Overnight, Millie Bobby Brown became a household name, known for her tremendous acting chops and iconic character-driven shaved head. Yet, every "overnight sensation" has a long an arduous career path behind. Before landing the role of Eleven, Brown was featured on Grey's Anatomy, NCIS, Intruders, and Modern Family. She portrayed the iconic character of Alice (you know, the one from Wonderland) on ABC's Once Upon A Time. Since her first major role on the fairytale-themed TV show back in 2013, Brown has been slowly honing her acting skills, unknowingly preparing herself for her emotionally, physically, and psychologically demanding role in Stranger Things. It's no wonder Brown is nominated for the Outstanding Performance by a Female Actor in a Drama Series category at the SAG Awards. By age 13, Brown has developed more intricacy and complexity in her craft than more actors do in a lifetime.
Brown wore a pink Calvin Klein sequined, high-low dress to the 2018 SAG Awards, and she surprised everyone by pairing it with white, Converse low-tops!
Brown's dress is something of a mullet style (a not-at-all official fashion term) with business in the front and party in the back.
Brown's makeup is on fleek too, naturally. Her sequined eyeshadow and rosy pink lipstick are killer. Brown skipped out on earrings but with all those shiny pink sequins on her dress, she doesn't even need any.
Brown topped off her look with ribbons in her hair! Never did I ever think I'd see that on a Hollywood red carpet, but I am into Brown's age-appropriate hairstyle.
Millie Bobby Brown is #blessed. Not only does she have acting chops that rival the greats, she is quickly become the fashion icon of her generation. It all began with her iconic "Eleven in a blonde wig" costume that was the most popular Halloween get-up of 2016. That year, if you walked tried to trick-or-treat on Oct. 31, you were enveloped by a sea of Millennial pink, retro, collared dresses and striped white calf-length socks. Brown takes more fashion leaps than Eleven, however.
Since her first appearances on the red carpet, Brown has adopted a much edgier style. Even though she still embraces ruffles and cream-colored hues at times, just like Eleven, Brown's fashion choices have turned toward the dark side. At the first season premiere of Stranger Things, Brown rocked this beige and cream dress with a matching pair of comfy sneakers.
For the premiere of season two, she opted for a slick black button-up dress with contrasting white heels instead.
Just like her acting, her fashion has range, dude. One day, she'll rock a fluffy frock like this precious ballerina-esque dress that she wore to the Emmy's.
The next day, she'll show off her sleek side with a slick bun, sharp wings, and architectural black dress.
Brown wowed us all in her Calvin Klein Collection look at the 2018 Golden Globe awards. She wore black to show support for the Time's Up movement, but still stood out in her satin cocktail dress.
Brown wore a sleeveless shirtdress with a bedazzled collar for a recent appearance on The Tonight Show With Jimmy Fallon. The girl knows how to dress, no matter the occasion.