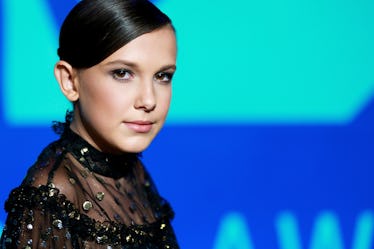 Millie Bobby Brown Just Landed A Major Film Role & We Can't Wait To See It
Rich Fury/Getty Images Entertainment/Getty Images
When Stranger Things Season 1 landed in the summer of 2016, it was clear the breakout star was Millie Bobby Brown, who plays Eleven, the language-impaired telepathic escapee from Hawkins Labs. Since the show's massive success, fans have been waiting to see what her next move would be. Now we have an answer. Millie Bobby Brown will star in The Enola Holmes Mysteries, a feature film series based on the young adult series of novels by the same name.
For those who perhaps haven't been aware of the series, it is a mystery series that consists of six installments, all of which were released between 2006 and 2010. They were written by American author Nancy Springer, who is also known for the Tales of Rowan Hood series and The Book of the Isles novels. It stars Enola Holmes, who is the 14-year-old sister of Sherlock. (He's 20 years her senior, and already a world famous detective at the time the novels begin.)
The series is not a modernized Sherlock, but set in the late 1800s, so Enola has the teenage horrors of the time facing her — things like boarding school, corset wearing, and the general anti-feminist patriarchal society of Victorian London. That includes brothers Sherlock and Mycroft, who dismiss her out of hand until she begins solving mysteries on her own.
The news was broken by Deadline, which reported that not only will Brown star in the series, but she will also produce the series under her PCMA Productions banner. This is a huge deal, as Brown is still only 13-years-old herself. To be already producing at that age is a major power play in an industry where child stars, especially female ones, can find it very hard to transition into adult roles.
According to Deadline:
Legendary Entertainment has made a deal with Emmy-nominated breakout Stranger Things star Millie Bobby Brown to star in and produce a feature film series based on Nancy Springer's Enola Holmes Mysteries novel series. Brown will produce through her PCMA Productions banner.
Brown developed a relationship with Legendary as she just completed a starring role in the Michael Dougherty-directed Godzilla sequel for Legendary and Warner Bros.
The six novel series, if it is the box office smash Legendary is hoping for, could easily be turned into a six-film franchise. The material is good stuff, too. The Case of the Missing Marquess (the opening book in the series) was nominated for the Edgar Awards for Best Juvenile Mystery in 2007. (So was the fifth installment, The Case of the Cryptic Crinoline, in 2010.)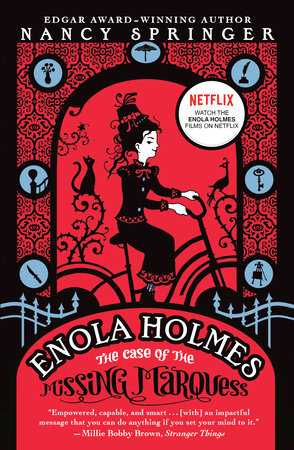 For those who are wonder what the first film's story could entail, here is the synopsis of The Case of the Missing Marquess via its publisher, Penguin Random House.
When Enola Holmes, sister to the detective Sherlock Holmes, discovers her mother has disappeared, she quickly embarks on a journey to London in search of her. But nothing can prepare her for what awaits. Because when she arrives, she finds herself involved in the kidnapping of a young marquess, fleeing murderous villains, and trying to elude her shrewd older brothers—all while attempting to piece together clues to her mother's strange disappearance. Amid all the mayhem, will Enola be able to decode the necessary clues and find her mother?
No word on when the project will get started, but with Stranger Things Season 3 gearing up for filming this year, and one more season vaguely planned by the production, Brown's move to have her next project set up and ready to release to theaters in the next couple of years is a savvy one.
We'll see Brown in Stranger Things 3 on Netflix sometime in the next year, along with a role in Godzilla: King of Monsters, which is slated to come out in March of 2019.