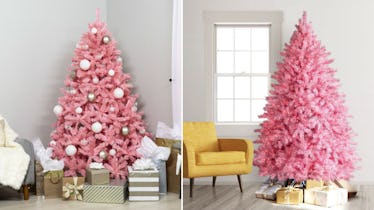 Millennial Pink Christmas Trees Are Here To Make All Your Instas Pretty In Pink
It's the most magical time of the year to start decorating your place for the holidays. Instead of going with traditional decor, be your very own interior designer and try something different this year. That means, instead of a standard green tree, consider going for something that's a little more you. In fact, millennial pink Christmas trees are here to look glam for the 'Gram.
You know the first thing you're going to do after decorating your place is show it off to all of your friends on social media, so make sure it's totally Insta-worthy. Millennial pink is all the rage this year, and you still have those "gotta have it" feels whenever you see that cute color in stores. So, why not think pink, and add any of these seven trees to your online shopping cart right now?
Not only will you stand out amongst all of your friends' green trees, but the lighter shade will make you feel merry and bright all season long. You might even have plans of taking some Christmas card selfies in front of your tree. Get yourself a millennial pink Santa hat or cute AF pink Christmas sweater, and have yourself a pretty in pink kind of Christmas.