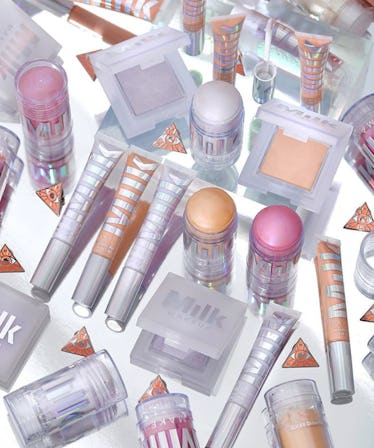 Milk Makeup Is Having A Major Flash Sale, So Keep Your Wallet Close
Milk Makeup
Summer may be wrapping up, which definitely sucks if you love hot weather, but the silver lining is that with a new season comes new sales — and that's always something worth celebrating. But while most Labor Day promotions are now over, the Milk Makeup holographic sale is happening through Sept. 5, so clearly the folks over at the vegan and cruelty-free brand want you to bring that summer glow into the fall. And with prices up to 50 percent off, I, for one, will happily rock shimmering cheekbones well into the winter months.
Since there's not much time to snatch up these great products, let's get straight down to business. First thing's first, where is the sale happening? As per Milk's Instagram page, the marked down items will be available at sephora.com, as well as in select stores. And based on the retailer's online sale page, it looks like Milk's Holographic Stick (original $28; sale $14, Sephora), Holographic Highlighting Powder (original $24; sale $12, Sephora), Holographic Lip Gloss (original $24; sale $12, Sephora), Holographic Powder Quad (original $49; sale $30, Sephora), and Glitter Glaze Quad (original $29; sale $30, Sephora) are all being included in the sale, which is great news for anyone who loves to shine bright like a diamond at all times, but is also on a tight budget.
Now, let's get into the nitty gritty of each product for anyone who has yet to get familiar with Milk!
Holographic Stick
If you're looking for a new, easy highlighter to get into, this may just be your best bet! The only bad news is that the full-size version of Mars, which is a golden peach hue, is currently sold out. However, both Stardust and Supernova are in stock, and all three colors are available in the mini size.
Holographic Highlighting Powder
Available in both Supernova and Mars, this powder provides the same color variety as the Holographic Stick, but offers a silky finish instead. It's also infused with coconut oil, avocado oil, and mango butter to keep your skin hydrated underneath.
Holographic Lip Gloss
Looking to add a little more shine to your lip routine? Now, you won't have to look any further. This non-sticky formula will not only leave your pout shimmering with a pearl-like finish, but it will also leave your lips feeling super hydrated as well.
Holographic Powder Quad
Take your highlighting game up a notch with this palette that works great not only on the cheeks, but also the lips, eyes, and body as well. And much like the Holographic Highlighting Powder, this product is also packed with avocado oil, coconut oil, and mango butter, which will hydrate your skin, giving you a smooth finish — no flakes in sight.
Glitter Glaze Quad
If you're a lover of a little highlight, but prefer to keep things neutral, then this palette will definitely be a Godsend. Boasting four hues — Gold/Silver, White, Bronze, and Rose Gold, you can rock any of these glazes on your cheeks, eyes, or lips.
I don't know about you, but I'm going to head over to Sephora right now before it's too late!