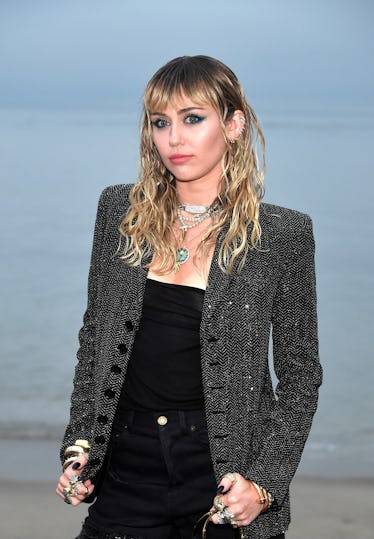 Miley Cyrus & Cody Simpson's Astrological Compatibility Is Complicated
Neilson Barnard/Getty Images Entertainment/Getty Images
Miley Cyrus and Cody Simpson may be a new couple, but things between them seem to be getting pretty serious, pretty fast. If you didn't get the memo these two are a thing, don't worry — it's super new. And while it may be just getting started, I can't help but wonder how strong their connection is based on Miley Cyrus and Cody Simpson's astrological compatibility. First, let's backtrack to how this all came about.
For those who haven't been following along, rumors that the two were getting romantic began in early October 2019, when they were spotted exchanging a quick kiss at a grocery store in Los Angeles. On October 9, Cyrus basically confirmed the relationship in her Instagram story, referring to Simpson as her "BF.. Cyrus was in the hospital being treated for tonsillitis when she posted a photo of herself in bed with the caption, "BF coming to visit me @ the hospy." Shortly after, Simpson arrived with roses and guitar in hand. Simpson proceeded to serenade Cyrus with a song he had written just for her. Aaaaand no, I'm not crying. It's just allergies, OK?
That brings us back to their astrological compatibility. Here's where things get interesting. Cyrus was born November 23, under the sign of Sagittarius, and Simpson's birthday is January 1, which makes him a Capricorn. If you're familiar with these signs' characteristics, you know this isn't the easiest of combinations. Sagittarius is the ultimate free spirit, full of wanderlust and adventure. Capricorn is a true earth sign, grounded and highly structured in how they approach life. While this doesn't mean they can't forge a strong and healthy romantic connection, they will most likely face some major challenges. Here's what we can divine about their connection based on their astrological compatibility.