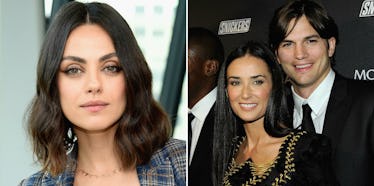 Mila Kunis Opened Up About Ashton Kutcher & Demi Moore's Marriage & She Really Is So Mature
Dimitrios Kambouris/Larry Busacca/Getty Images
Mila Kunis and Ashton Kutcher like to keep their marriage and family life private, but something must have changed their mindset on this front seeing as Mila Kunis has been opening up a hell of a lot about their relationship lately. Believe me, I'm all for it — I just didn't expect to be here in the year of our Lord 2018. One thing I definitely didn't expect to hear was Mila Kunis' comments about Ashton Kutcher and Demi Moore's marriage.
In an interview on WTF With Marc Maron, Kunis talked all about her husband's first marriage to Demi Moore. The former couple got together in 2005 then divorced in 2013 — but eight years is still a significant amount of time to be married to a person. Kunis and Kutcher have been married since 2015, and she seems totally comfortable talking about her husband's past marriage because, according to her, it was a "real relationship." Kunis told Maron, "They had, like, a normal, real relationship. They had three kids they were raising. It was, like, a normal life." (Moore has three daughters with Bruce Willis, whom she was married to for 11 years before getting separated for two years and then divorced in 2000.)
"He was younger but he loved those kids," Kunis said about his relationship with his former step-children. Kunis also said in the podcast that Kutcher still maintains relationships with Tallulah, Rumer, and Scout Willis.
It's a mark of Kunis and Kutcher's emotional maturity that she's able to speak so comfortably about her husband's first marriage. It also is further proof that she's not lying about Kutcher and Moore's relationship — if it wasn't a genuinely good life they used to have together, why would she speak about it so positively?
Kunis also said that the story of how she and Kutcher got together is too much like a movie to be believable. "It's the weirdest story that nobody believes but it's the God's honest truth," she said. "You know, he and I talk about it and we're like, 'God.'" Kunis and Kutcher co-starred on That '70s Show together (as if anyone could forget that) and played each other's significant other on the show, but Kunis claims that the people they were during that time of their lives could never have been together.
"Had we connected [in the past], would we have connected? No," she revealed. Adding,
The people that we were back then would never be together. But it's just such a bummer that we missed out on 20 years together. I look back and I think, 'We could have spent 20 years together.'
Um, my heart hurts? The Spy Who Dumped Me star added, "We would have never been together if we didn't both go what we went through in order to be the people that we were when we met."
Once they did get together, however, she said it was basically like the respective (and hilariously similar) plots of their movies Friends With Benefits and No Strings Attached. When they first got together, they were literally just friends with benefits, and then Kunis cut things off because she started to catch feelings. "I felt like I got punched in the gut, literally overnight," she said. "I was like, 'You know what, I actually care about you. I don't want to mess anything up so I'm going to walk away before it becomes too much.'"
Then an even more movie-like moment happened, according to the actress. "The next day," she said, "he showed up to my house and he was like, 'Move in with me,' and I said, 'OK.'" And the rest is Hollywood history.