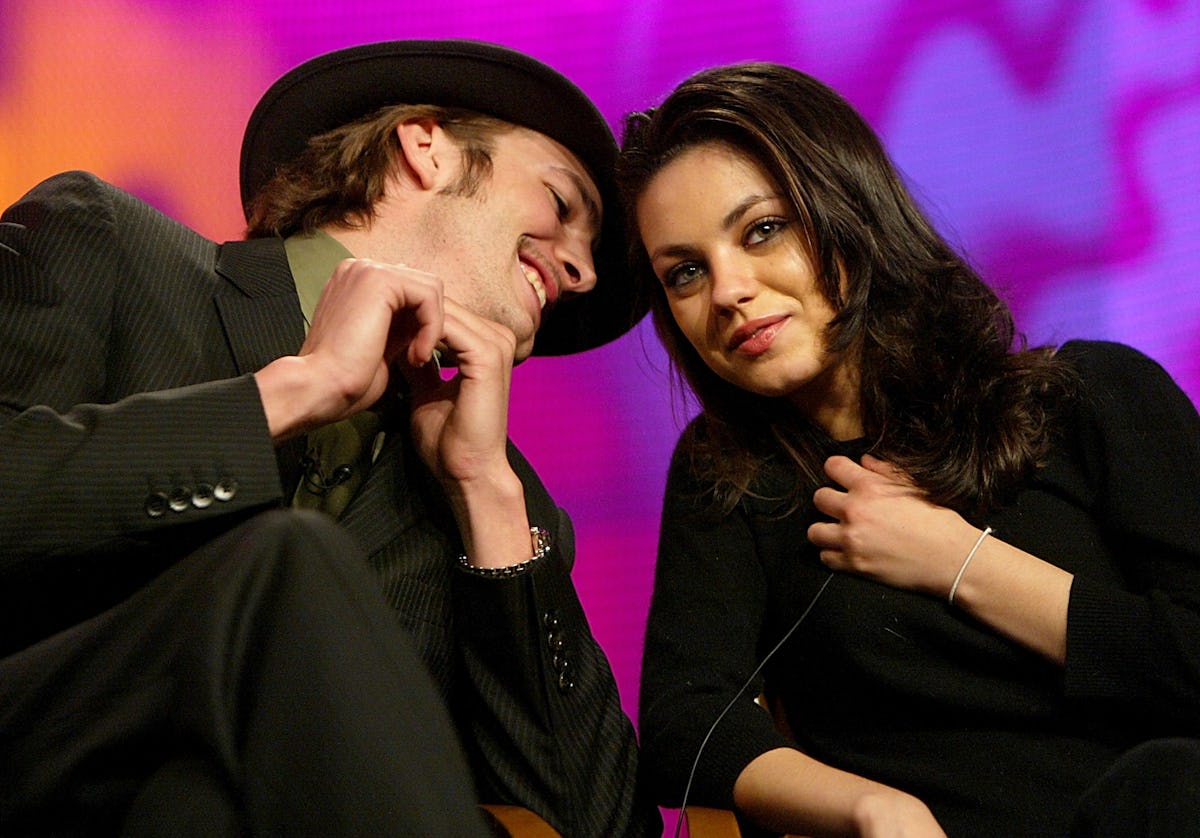 Mila Kunis & Ashton Kutcher's Astrological Compatibility Shows How Good They Are Together
Kevin Winter/Getty Images Entertainment/Getty Images
Mila Kunis and Ashton Kutcher aren't exactly "under the radar" as a couple. We'll occasionally see them on red carpets, our out with their two adorable kids, yet they've managed to maintain some degree of privacy. When you think about it, that's pretty impressive in this day and age! But, what can I say? I'm nosy — err... I mean, curious — so naturally, I wonder about their relationship dynamic. And since they mostly stay mum, I've turned to the stars to see what we can learn about Mila Kunis and Ashton Kutcher's astrological compatibility. Turns out, the answer is: A lot.
But before we get too far ahead of ourselves, here's some quick background on this golden couple. Kunis and Kutcher first met back in 1998 when they starred on That '70s Show. They didn't date while they worked together, but they did forge a friendship that would last long after the show wrapped. Both Kutcher and Kunis had highly publicized relationships with Demi Moore and Macaulay Culkin, respectively. After those relationships ended, rumors about a romance between the two began swirling in 2012.
Rather than opening up about their budding romance, the couple intentionally opted to remain private about it. As Kutcher told Elle, "You know, I've learned the hard way how valuable privacy is. And I've learned that there are a lot of things in your life that really benefit from being private. And relationships are one of them. And I am going to do everything in my power to have this relationship be private."
Seems like it was the right call, because in 2014, they were spotted together at a Lakers game, and Kunis was sporting an engagement ring. That same year, she gave birth to their first child, Wyatt Isabelle Kutcher. In 2015, the couple got married, and just a year later they added one more kiddo to their family, with the birth of their son, Dimitri Portwood Kutcher.
They seem to still be going strong to this day. And although we don't know too much more than what they've explicitly told us about their relationship, we do know that Kutcher was born on Feb. 7, which makes him an Aquarius. Kunis is a Leo, born Aug. 14. Here's what we can infer about their relationship, based on their zodiac signs.