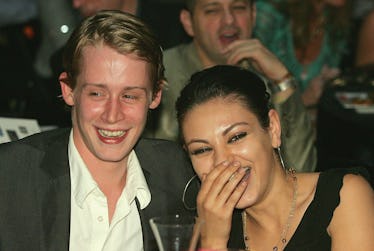 Mila Kunis Says She Was An "Assh*le" During Her Macaulay Culkin Breakup & It's Sad
Ethan Miller/Getty Images Entertainment/Getty Images
Before Mila Kunis was, amongst many other awesome things, one half of one of all of our all-time favorite Hollywood couples, she spent a large portion of her 20s in a relationship with Home Alone star Macaulay Culkin. Now that she's the star of most of our favorite movies and the wife of one of the most beloved guys in Hollywood, it's understandable if you forgot Kunis and Culkin even dated. And apparently, their relationship might have ended pretty messily. Mila Kunis' quotes about her Macaulay Culkin breakup during her interview on her friend Dax Shepard's podcast, Armchair Expert with Dax Shepard, suggest she might have been the one to drop the ball.
According to ET, 34-year-old Kunis started dating Culkin back in 2002. The couple split up eight years later and, until now, not much was really known about their breakup.
"I had a horrible, horrible breakup," she told Shepard of her split with Culkin.
Shepard stopped her to ask what she meant by the breakup being "horrible." Specifically, he asked if she was "sad" about her breakup with Culkin. For a while, she definitely was.
"No, I f*cked up. I was an assh*le in my 20s and I'll be the first to admit it," she replied. "And that's something that took me a long time to come out and be like, 'Yeah, you know what, I was a d*ck,' and accept it and I own it.'"
But why did they breakup? Here's where things get interesting.
"It's f*cked up what I did," she continued to Shepard. "It's f*cked up what I did, and it's f*cked up how I did it. When I got to be single, I said, 'I just need to figure myself out. I genuinely need to know why I did what I did and, like, regroup myself as a human being.'"
Although she does clarify that she didn't kill any of his loved ones, Kunis does not go into detail on what, exactly, the horrible thing was that she did to her ex that ultimately caused their breakup.
While she admits that it took some time for her to forgive herself, Kunis confided in Shepard that she was finally able to get there with time. "You know, it's been so long, like I feel like enough time has gone by," she explained to him. "I think enough mutual friends have been like ... everybody kind of forgave everybody for what went down."
Listen to her full interview with Shepard here:
In response to Kunis' revelation, Shepard tries to comfort her by reminding her that making mistakes is just part of the human experience. She agrees by saying, "At 35, I could look back and be like, 'I was 20.'"
Kunis usually doesn't speak publicly about her relationship with Culkin. In an interview with Howard Stern, she recalled what it was like for her to date someone with his almost unfathomable level of fame.
"He was huge," she told Stern. "You couldn't walk down the street with him. He always had this weird attraction, like fans just screamed when they saw him! They didn't know how to react. It wasn't like a normal response to a celebrity. Fans responded in a very abnormal way to him."
Luckily, the two have both seemed to move on romantically. Kunis has been married to Ashton Kutcher for three years and the two share two children together. Culkin, on the other hand, is currently in a relationship with Brenda Song.
Here's to time actually healing all wounds!
Check out the entire Gen Why series and other videos on Facebook and the Bustle app across Apple TV, Roku, and Amazon Fire TV.
Check out the "Best of Elite Daily" stream in the Bustle App for more stories just like this!