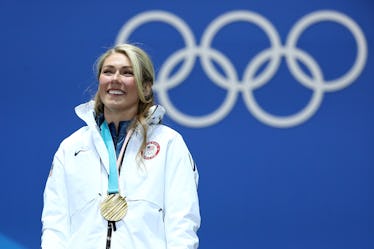 Mikaela Shiffrin's Olympic Workouts Look Hard AF, But Here's How To Make Them Easier
Alexander Hassenstein/Getty Images Sport/Getty Images
You know those days when you think you're about to go super hard at the gym and absolutely slay your planned workouts, but then you get there and wind up being lazy AF and letting your inner slacker come out to play? Same, fam. Well, apparently, Olympic athletes don't have those kinds of days, like, ever, and it blows my mind that they give all their training sessions 100 percent all day, every day. Olympic skier Mikaela Shiffrin's workouts in particular look intense as hell, and kind of impossible for the average, non-Olympian human. Rest assured, though, if you want to work out like your girl Mikaela, you can definitely tweak some of her go-to exercises to fit into your own routine.
Guys, I think Mikaela Shiffrin is the coolest 22-year-old I've ever encountered. I mean, TIME called her the best skier in the world, and she's casually the first woman in 78 freaking years to win three consecutive world titles in slalom, according to the Team USA website. So yeah, that's a thing.
But you don't just acquire those beast-like skills overnight, people. Shiffrin's worked her ass off every freaking day to get to where she is, and her ridiculously challenging workouts reveal just that.
Here are five of Shiffrin's workouts that would most likely make you cry if you tried them on your own — but fear not, because I've come up with ways to modify each exercise to fit your own level of athleticism, so you can low-key pretend to be just as cool as this amazing Olympian. Happy sweating!