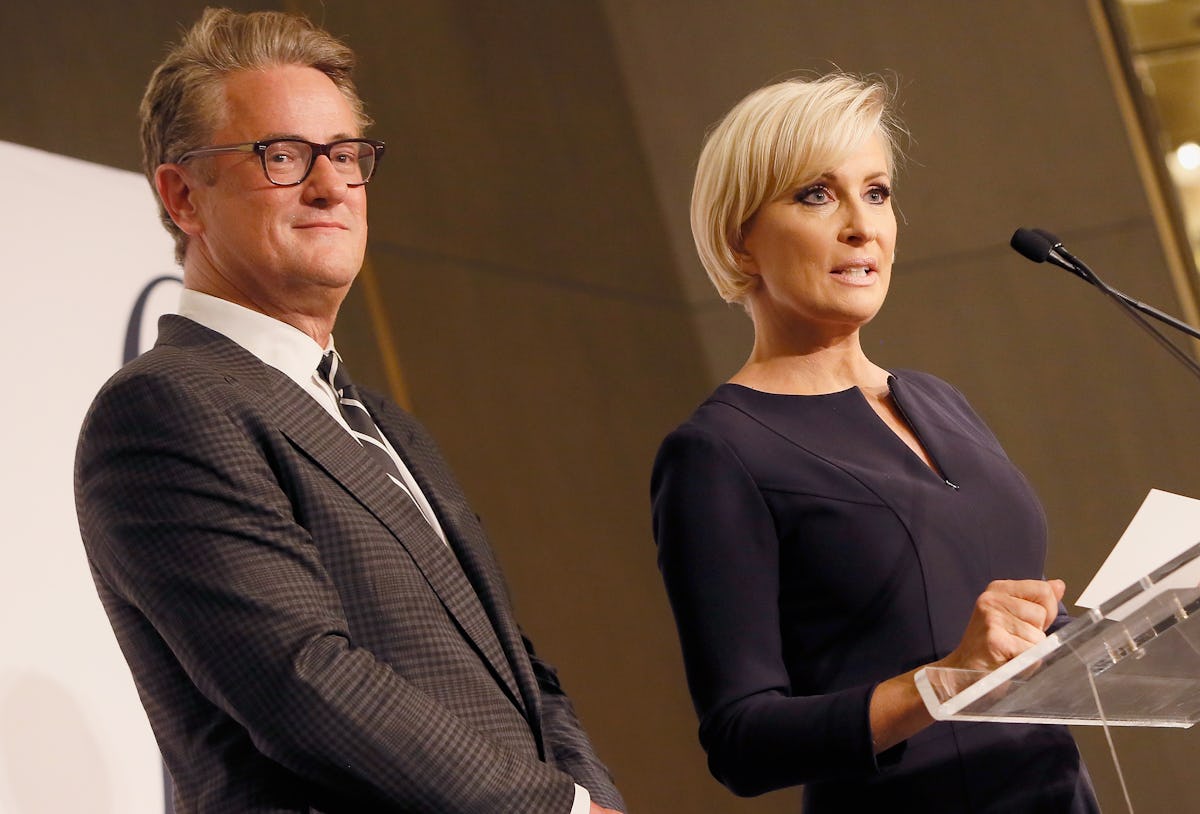 Mika Brzezinksi Calls Trump's Comments On Women "Some Strange Sexual Thing"
Paul Morigi/Getty Images Entertainment/Getty Images
One of the many women who knows best what it's like to be on the receiving end of President Donald Trump's sexist remarks has spoken out about his comments to women. In an interview with Marie Claire, Mika Brzezinksi calls Trump's comments "some strange sexual thing." MSNBC's Morning Joe co-host, like many women in the media, has been the target of Trump's misogynistic comments both on and off Twitter.
In the interview with Marie Claire's Emma Dibdin, Brzezinski describes what the aftermath has been like since the president's bullying, sexist tweets about her in July. In a sort of playground bullying version of sexism, Trump back in June tweeted about the talk show host, implying that she'd had cosmetic surgery.
Brzezinski made it clear she's not having Trump's sexist digs. She didn't miss a beat. In her own classy way, she got even, tweeting out a photo of a Cheerios box, implicating the president's "tiny hands."
Brzezinski isn't hurt about the tweets. She's concerned.
Brzezinksi described to Marie Claire that after the incident, people would come up to her and express sympathy and apology. She seems unfazed by the actual comments to her, but is clearly bothered by the fact that Trump is making them at all. She says,
Are you kidding me? Bleeding from a facelift… What? It's deranged. ... I really don't care if he wants to say that I look…whatever. I'm worried that he's doing it!
After Dibdin responded, noting there were many instances of Trump's appearance-based comments, Brzezinski apparently nodded and said,
It's some strange sexual thing.
About those comments to women...
Trump has said a lot of awful things to and about a lot of women, many of them in the media. Brzezinski is not in a league of her own. Trump has also made comments, some blatantly rude, other just plain awkward, to Irish reporter Catriona Perry and television host Megyn Kelly. This is to say nothing of the other alarming instances of Trump's comments to and about women (some of them happening while he's been in office), including the infamous Access Hollywood tape in which he boasted about grabbing women by the genitals. How could we forget?
Beyond women alone, Trump has also taken aim multiple times to the media, or as he puts its, "Fake News," minus a few choice outlets including Fox News. After he went so far as to tweet a vaguely veiled threat of violence against CNN, journalists spoke out against what they felt was a step too far. Reporters nationwide have endured threats, even physical violence, this year, and many see it as a result of the president's anti-media rhetoric.
In the interview, Brzezinski also laid in on the status of Washington and the White House.
For Brzezinski, this year has been a whirlwind, and not just in terms of being personally attacked. When asked how Morning Joe has changed over the years, she said,
The only thing that's changed is the presidency. The conversation has changed, because I think we are in a much more dangerous place than we ever thought we'd be, domestically and in terms of our place in the world. It makes the conversation a lot more serious.
This is the most absurd presidency. I think we used to joke around a lot more on the show, we used to have a lot more fun. Now it's like, Oh my God, what I just said was not a laugh line. It's the news.
The status quo operations of Washington's normal politics is another routine that seems to have be upended this year, per Brzezinski. She compares politicians she's witnessed over the years to President Trump, saying,
These people are all putting themselves out there for our country, and they love this country. I didn't realize how comforting that was until now, when you really don't feel that this president or his family is putting the country before their own interests. It's a scary feeling. I've never seen that before in my life. I know what politicians look like, sound like, and how hard they work. This is something very different.
That's not the most comforting thing to hear someone whose living is based on dissecting and explaining politics to say about the president. But it is encouraging to see figures like Brzezinski speak their mind and not let a bully pull them down. We're cheering for you, Mika.