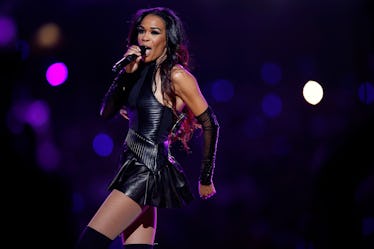 Michelle Williams Got Real About Performing At Coachella With Beyoncé & It's Everything
Chris Graythen/Getty Images Sport/Getty Images
Michelle Williams has long been known as one-third of famous girl group Destiny's Child. Yes, that girl group, the one that gave rise to great music and the legend that is now Beyoncé. But that group, which hailed from Texas, gave rise to some beautiful friendships as well, especially the one between Williams and Beyoncé. Williams recently did an interview with Cosmopolitan and gushed about the superstar. In fact, Michelle Williams' quotes about Beyoncé will probably make you wish you had a friendship like theirs.
The interview, which was published on Tuesday, April 24, covers everything from Destiny's Child playing at Coachella to Williams' engagement announcement. And Williams certainly had a lot to say about it all.
Of her friendship with Beyoncé and fellow Destiny's Child alum Kelly Rowland, Williams has nothing but positive things to say. She communicates with them constantly and when Beyoncé asked her to perform at Coachella, she was completely onboard:
We are in touch all the time, whether it's going to dinner or something like that. I just remember Bey on the phone being like, 'Hey, I'm doing Coachella, I'd like for you to be part of it.' And it's like, of course. Of course. When it comes to my girls, I'm going to be there as best as I can, as much as I can.
When speaking of Coachella and Beyoncé's vision to honor the legacy of black colleges, Williams was super confident about the direction of the show... even if Beyoncé's mom Tina Knowles wasn't:
I was very confident. And you have to give it to Miss Tina. That's her daughter. A mother might have concerns that someone else might not even think about or worry about. I think she was coming from a place of, 'You worked so hard to do this kind of a show, I just don't want there to be any criticism. I don't want the criticism to overshadow the hard work that you put into this amazing production.
Knowles was concerned that white audiences wouldn't understand Beyoncé's specific references to black college culture. But Beyoncé went ahead and did what she always does: knocked 'em dead. Fans are 100 percent certain that Bey is the entertainer of our time. Hands down.
The Coachella set was definitely a groundbreaking one, for sure. And Williams was very clear that Beyoncé got everything just right:
I went to school for two years and was always interested in being in a sorority. Some of that stuff, I'd seen on campus. Every year they have homecoming. Everything Beyoncé did on stage happens at Howard University, Grambling, Morehouse.
So amazing! You can just feel the love and respect Williams has for Beyoncé in these words. It's awesome to see friendship like this thrive — through thick and thin, successes and failures, and even history-making performances. Love it!
During the Cosmopolitan interview, Williams also briefly mentioned her engagement to Chad Johnson, a pastor and former chaplain for the Pittsburgh Steelers.
The two were engaged in March 2018 and just announced the exciting news:
The thing is, we were engaged for a month, so finally announcing it made me relive that beautiful moment. It's starting to settle in.
Williams also has lots of ideas about what she wants for her wedding:
I just know we want a summer wedding. This year. I'm kind of visualizing the dress I want to wear… obviously picking bridesmaids will be very quick. I have a small circle of friends.
What a special time for Williams! I'm sure Bey will be at that wedding. Can't wait to see photos!