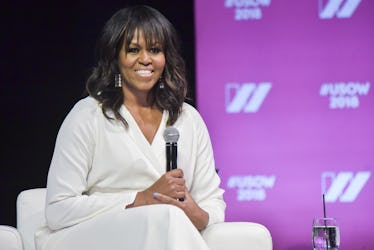 Michelle Obama Posted A Heartwarming Photo For Mother's Day & I Can't Handle It
Rodin Eckenroth/Getty Images Entertainment/Getty Images
Mother's Day is a chance for everyone to show their mamas a little extra love, most commonly manifested in the form of a social media post. Whether it's a snapshot from the day's events or a collection of throwback pics, there is no shortage of cutesy Mother's Day content to eat up. I especially love to see how the celebrities of the world pay tribute to their moms, and Michelle Obama's Mother's Day Instagram is definitely one of the best that I've seen today.
I don't know about you, but I'm a huge fan of the "Stars — They're Just Like Us!" section in Us Weekly magazine. But I don't always have that magazine on hand — so Instagram is a way to take a closer look into the lives of celebrities and discover that they're more relatable than I think. Which is why when I saw Obama's insanely adorable throwback childhood picture that she shared for Mother's Day, I was all about it. The photo features her and her mother, Marian Robinson, and was paired with a sweet message to commemorate the most important woman in her life. Obama wrote in her post,
It's impossible for any picture to truly capture what my mother, Marian, has meant to me. Happy #MothersDay to all of the moms out there, and especially to my own.
I mean, can anyone put into words how much love and admiration they have for their moms? Which is why Obama's message to her mother is absolutely perfect. She is truly one of the most eloquent and poised women to ever exist, and I absolutely love her.
Can I also discuss how insanely adorable this throwback picture is? The snapshot of the two of them and her brother, Craig Robinson, is so incredibly cute. The former first lady honestly hasn't changed a bit since she was a kid, and there's nothing that I love more than a good childhood pic — especially if it's a celebrity sharing it.
Obama wasn't the only person to wish her mom a happy Mother's Day. Her husband Barack Obama paid homage to his mother-in-law (and his wife as well) in a tweet that he paired with a picture of both Robinson, Obama, and his two daughters Sasha and Malia. In the tweet he said, "Happy Mother's Day to every mom out there, especially the remarkable moms in my life, @MichelleObama and my mother-in-law, Marian Robinson."
Ugh. Yet another reason that proves the Obamas are couple goals. Just when I think their relationship can't be any more perfect, they manage to prove me wrong.
The Obamas weren't the only major political figures to shout out the moms in their lives today. Current President Donald Trump also shared a Mother's Day message for his mother, Mary Macleod, who passed away back in 2000. He praised his mom for being "a great person," and clearly showed that he loved her a ton. Trump said while sharing some throwback pictures of the two of them, "I learned so much from my mother. She was just incredible. Warm, loving, really smart, could be tough if she had to be, but basically she was a really nice person."
But the one person that Trump noticeably forgot to acknowledge for Mother's Day was first lady Melania, who is mother to his youngest son Barron. Awkward. So despite the lovely message to his own mom, not mentioning his wife seems like a pretty serious slip up.
To be fair to Trump, not everybody can deliver a perfect Mother's message — but Obama's super sweet Instagram post today seems pretty close.