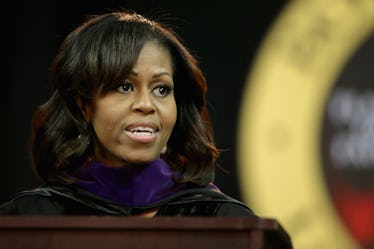 Michelle Obama Called Herself Your "Forever First Lady" & Now I'm Emotional
Chip Somodevilla/Getty Images News/Getty Images
Every time I think I've finally moved on from the Obamas, another story pops up in my news feed that reminds me just how much I miss them. Like Wednesday, when Michelle Obama promised to be our "forever first lady" in a move that made a crowd erupt in cheers and made me want to cry. Just when I thought I had to let go, Mama Obama is right there to tell me it'll be okay.
OK, maybe she wasn't exactly talking to me, but instead to a crowd of high school seniors for an event called College Signing Day, an annual event she began in 2014, which celebrates graduating seniors moving on to college. This year, it was held at Temple University in Philadelphia, and her words at the event were so inspirational, but what else is new?
"I know you have everything it takes to succeed," she said. "I know that you are me, and if I can be standing here as your forever first lady, then you can do anything you put your mind to. So remember this moment when you're out there."
What a comforting thought: Michelle Obama as forever first lady. She's the mom you never want to leave, and apparently she's up for the job, including reminding kids how hard they've worked.
"You guys ignored the haters, you buckled down, you focused, you surrounded yourselves with positive people and you believed in your ability to do whatever you put your mind to it," she told the room of seniors. Ugh, my emotions.
Being a "forever first lady" sounds like a big job, and luckily, she's got friends to help her out, including plenty of celebs. College Signing Day 2018 was a star-studded event and Robert DeNiro, Bradley Cooper, Camila Cabello, Ciara, Kelly Rowland and Zendaya, who has a pretty special relationship with Obama, were just a few there. The photos from the event look like so much fun. Who knew making life decisions could be such a party?
The event is part of an education initiative Obama began when President Barack Obama was in office called Better Make Room, which is geared toward elevating high school and college students. The program was designed to help kids realize their potential and options for higher education, something Obama said she didn't have.
She told the thousands of college-bound students that when she applied to universities, counselors told her not to set her hopes too high, according to CBS Philadelphia. Of course, that was before she went on to attend some of the most exclusive, prestigious schools in the country, but who's keeping score? But that story is so common. I heard that when I was applying to colleges, and some of my friends did, too, so seeing Obama keep on fighting to save education and empower kids is just so refreshing. Somehow, she manages to strike the perfect balance between being positive without being annoying, which can be hard to find for a cynic like me. I need that in my life, like, all the time.
That's part of why the "forever first lady" things feels so fitting. But here's the great thing: she didn't even start it. Nick Cannon nicknamed her the "Forever First Lady" in a blog he wrote for her initiative in 2017, and that just makes it so much cooler. No shortage of humility for the girl from the South Side.
"It was such a powerful event and selfless occasion," Cannon wrote about the College Signing Day event last year. "It truly showed how much she continues to care for our youth and the importance of education in our great country."
Thankfully, she hasn't gone far since leaving the White House. Her first appearance after President Donald Trump took office was a surprise visit to a high school in Washington, D.C. on February 28, 2017, International Women's Day, where she sat and talked to students about their future, according to Newsweek. Since then, she's called on women to seize their power during a conference in Denver, sat down for a conversation about female empowerment with producer Shonda Rhimes during a conference for women, and continued advocating for healthy eating. And she's done all of that while still making sure she has time to chill with her hubby. Life goals.
Although I'll always want more Michelle Obama optimism, at least we can breathe easy knowing that the forever first lady isn't leaving us any time soon. Thanks, Obama.