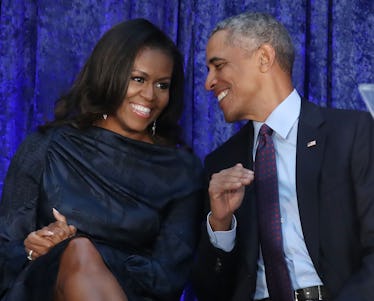 Michelle Obama's Message To Barack For Father's Day Is So Moving & So Right
Mark Wilson/Getty Images News/Getty Images
Father's Day is a time where we honor the strong men who inspire us every day. Well, to celebrate the two very special guys in her life, Michelle Obama's Father's Day message will seriously bring a tear to your eye. I'm very emotional right now.
On June 17, former first lady Michelle Obama took to Instagram to share a sweet, vintage photo of her father Fraser Robinson. The photo by itself is a sweet glimpse of clearly a hardworking man, but it's what she wrote that truly has me weeping. In her caption, Obama not only thanks her father for all the lessons he taught her in regards to handwork and positivity, but she also nods to her husband Barack Obama by saying that he pushes those same qualities in their daughters Malia and Sasha.
She wrote,
My father, Fraser Robinson, taught me to work hard, laugh often, and keep my word. Every day, I see @barackobama instilling those same values in our girls. #HappyFathersDay to dads everywhere who shape who we are - and who will always live on in our hearts.
Name a more iconic Father's Day post, I'll wait. It's no secret that Michelle Obama has a way with words, but this Instagram caption just might take the cake.
I don't know about y'all, but I look forward to seeing the Obamas' Instagram posts any time there's a holiday. Not only do we get to read captions that bring tears to my eyes, but we can always expect an adorable #throwbackthursday photo to be paired with it. I have to say, this one definitely doesn't disappoint.
Michelle Obama's Father's Day post is certainly one for the books, but Barack Obama decided to take a different route to honor his fellow dads on this special day. Instead of posting a classic photo of him with his daughters, Barack Obama instead took to Instagram to shoutout father Lynell Jinks, who decorates his children's lunch bags with gorgeous artwork and portraits of notable figures — like, say, the Obamas.
Barack Obama wrote,
Now this is a pretty cool dad move. Happy Father's Day to all the great dads out there like Lynell Jinks, who creates beautiful art on his kids' lunch bags to remind them to be proud of their own gifts.
Can you say dad goals? Obviously both Barack and Michelle are so excited to celebrate this holiday, and I can only imagine the wholesome family dinner that'll be taking place to honor our former president.
Let's be real, did you really celebrate Father's Day if you didn't post something on social media? All around the world people take to Instagram, Twitter, or Facebook to thank their fathers for all they've done, but sometimes those tributes can get some heat. First daughter Ivanka Trump is one example, when she posted a Father's Day message to Donald Trump on June 12. This might seem normal enough at first, but the Trump administration's new policy makes the Instagram a bit hypocritical. Recently, under the new policy, the administration has been separating children from their families if they cross the the border into the United States without documentation, according to NPR. Nearly 2,000 children have reportedly been separated from their adult guardians in the six weeks from mid-April through the end of May.
Clearly the idea of celebrating Father's Day under these conditions seems a bit inappropriate. In response to Ivanka's message to Trump on Father's Day, users decided to comment their thoughts on the situation.
"You know who would love to be with their dads right now??? The 2000-plus immigrants your dad has allowed to be ripped from their parents at our borders," one comment read.
Sadly, this seems to be the reality we're living in at the moment. Even though there are a number of problems in the world right now, at least we can celebrate the men who are actually trying to do some good in this world. Props to you, boys.