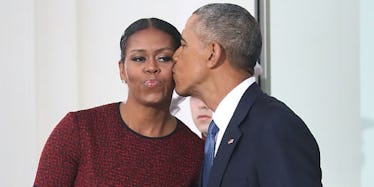 Barack And Michelle Obama's Father's Day Messages Will Melt Your Heart
Getty Images
We'll always have a soft spot for Barack and Michelle Obama, so whenever they post something on social media, we gush for a bit, and add a like, and maybe even retweet the message ourselves.
Naturally, Father's Day was no different.
Michelle took to Instagram and Twitter to post a throwback shot of Barack with little Sasha and Malia in adorable dresses, along with the caption, "Happy #FathersDay@BarackObama. Our daughters may be older and taller now, but they'll always be your little girls. We love you.‬"
The Barack tweeted Michelle's post and wrote, "Of all that I've done in my life, I'm most proud to be Sasha and Malia's dad. To all those lucky enough to be a dad, Happy Father's Day!"
Our hearts, Barack, our hearts!
Twitter users showed some love for Barack after he wished the dads out there a great day.
But of course, since this is social media, some took this as an opportunity to voice their political views with graphic images, though the negative responses are so minuscule in comparison to the "come back" tweets, you might not even notice them.
Since leaving office, Barack has traveled to locations like Hawaii and the Caribbean, among other destinations, and started writing his memoir on the gorgeous island of Tetiaroa, which was once owned by Marlon Brando.
REUTERS
He has dined with Justin Trudeau and no one could get over the pictures from this epic bromance dinner date.
To be a fly on the wall, huh? Who wouldn't want to have dinner with these two?
He has also responded to Donald Trump's health care bill, addressed a group of young leaders, and, most recently, addressed Jay Z in a video (because he's cool like that).
In the video, Obama said,
Jay and I are also fools for our daughters, although, he's gonna have me beat once those two twins show up. And let's face it: We both have wives who are significantly more popular than we are.
As of 3:30 p.m. ET, President Trump has not tweeted about Father's Day, though Ivanka's social pages feature posts dedicated both to her father and husband.