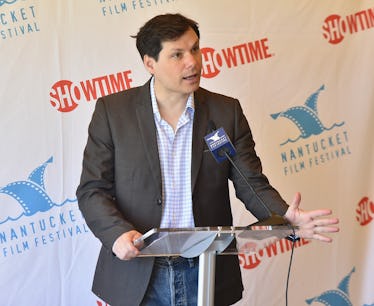 You Should Read This Viral Twitter Thread About Masculinity & Guns
Theo Wargo/Getty Images Entertainment/Getty Images
Making sense of a mass shooting is no easy task. Following the 18th school shooting in the United States this year, according to Everytown for Gun Safety, most people want to figure out why this happened. The tragic school shooting in Parkland, Florida that left 17 people dead on Wednesday, Feb. 14 is just the latest incident in the terrifying trend of commonplace mass shootings in this country. Michael Ian Black's tweets about masculinity and guns shed light on an interesting factor that he believes contributes to gun violence.
Black, who is a comedian, actor, and writer, showed his serious side in his Twitter thread reacting to the Marjory Stoneman Douglas High School mass shooting. He began his Feb. 14 thread with a bold statement that read, "Deeper even than the gun problem is this: boys are broken." Black further elaborated on what he meant throughout the thread.
Before he went into specifics, Black hypothesized that fixing what is "broken" in men is a necessary step to prevent gun violence, but presumably realizing how great of an undertaking that is, he put forth a more immediately doable effort in the form of gun control. He explained, "Until we fix men, we need to fix the gun problem."
"Deeper even than the gun problem is this: boys are broken."
Following his broad statements regarding masculinity, Black laid out his view that men are confined within an "outdated model of masculinity."
There is a noted link between men and gun violence. A Mother Jones analysis found that just three out of 97 mass shootings since 1982 where three or more people died were committed by women — and one of those was the 2015 San Bernardino shooting, which was committed by both a man and a woman. There has also been research showing that gun ownership is linked to a feeling of masculinity. Many people have argued, like Black does, that to limit gun violence, you need to fix toxic masculinity.
It is Black's understanding that "the last 50 years redefined womanhood" (think: the feminist movement). His reasoning for this claim is that "women were taught they can be anything." In contrast, Black expressed his belief that there has been no such freeing movement for men, and, as a result, the lack of a "commensurate movement" is "killing us."
"No commensurate movement for men who are still generally locked into the same rigid, outdated model of masculinity and it's killing us"
Illustrating his point, Black employed the common example of hurting a man by attacking his masculinity. Black claims in his tweet that masculinity presents only as "some version of a caveman," and that happens because there is no other available "language" to alternatively describe what masculinity is.
"If you want to hurt a man, the first thing you do is attack his masculinity."
A November 2014 report by the UK-based organization called the Campaign Against Living Miserably (CALM) looked into the high suicide rate among men in the United Kingdom at that time. The report entitled "A Crisis in Modern Masculinity: Understanding the Causes of Male Suicide" tried to answer the question of why men find it so hard to fulfill societal expectations.
Some of the findings harken back to Black's point regarding a rigid definition of masculinity. For example, findings in the report suggest that men have "fixed expectations" about their role as men, especially in terms of being the main breadwinner, remaining strong in a crisis, and being solely responsible for financial and legal matters. Employment is also a major factor for men's self-esteem, according to the report, and 29 percent of men (as opposed to 11 percent of women) reported they thought their partner would see them a "less of a man" if they lost their job.
Black alluded to the self-worth of man as tied to masculinity, and he also claimed that "the language of masculinity is hopelessly entwined with sexuality."
"The language of sexuality is hopelessly entwined with power, agency, and self-worth."
Black elaborated further on the detrimental effects of this tightly entwined masculinity-sexuality connection.
"To step outside those norms is to take a risk most of us are afraid to take. As a result, a lot of guys spend their lives terrified."
The American Psychological Association (APA) even has a journal called the Psychology Of Men & Masculinity. It is described as "the study of how boys' and men's psychology is influenced and shaped by both gender and sex," and it is a publication of APA Division 51: Society for the Psychological Study of Men and Masculinity (SPSMM). APA Division 51 describes their goal on their website:
SPSMM endeavors to point out constrictive conceptions of masculinity that have inhibited men's development, reduced men's capacity to form meaningful relationships, and contributed to the oppression of others.
With what the SPSMM calls "constrictive concepts of masculinity" in mind, I go back to Black's thread and his assertion that men are "terrified of being viewed as something other than men."
"We know ourselves to be men, but don't know how to be our whole selves."
Black suggests that when men try to venture outside of the rigid definition of masculinity, they "either shut off or experience deep shame or rage."
Even Black bringing up the issue is taboo, as he said, "Even talking about this topic invites ridicule because it's so scary for most men (and women)."
"Men are adrift and nobody is talking about it and nobody's doing anything about it and it's killing us."
The claims brought up in Black's thread might come off as shocking to you at first, but there is a lot of research on the matter of men and masculinity, and furthermore, the effect that a restrictive view of masculinity has on men, which can lead to violence. Hopefully, after reading through Black's tweets, you'll be compelled to check out the research that has been done and is currently being conducted on the issue. Obtaining as much information as possible on the subject matter is the first step toward having a real conversation and finding solutions to the problem.