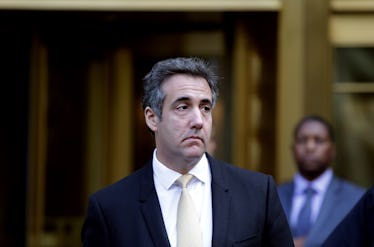 Michael Cohen Has Reportedly Been Talking To Robert Mueller, So It's Getting Serious
Yana Paskova/Getty Images News/Getty Images
The Michael Cohen drama just got a little more serious. According to multiple reports, Michael Cohen has been talking to Robert Mueller, who is leading the investigation into possible collusion between members of President Donald Trump's 2016 presidential campaign and Russia. The news comes just weeks after Cohen pleaded guilty to a series of financial crimes and admitted that he paid two women to keep quiet about affairs they allegedly had with Trump ahead of the election. He claimed that he facilitated the payments at the direction of Trump himself, which could spell bad news for the president (Elite Daily reached out to the White House for comment on the claims at the time, but did not hear back). Needless to say, people can't stop talking about it all online.
On Thursday, Sept. 20 ABC News reported that Cohen, Trump's former longtime attorney, has spent hours over the past month being interviewed by investigators from Mueller's office, mainly focusing on Trump's financial and business dealings with Russia, and Moscow's meddling in the 2016 election. Investigators reportedly also questioned Cohen on whether Trump or any of his associates discussed the possibility of a pardon. Elite Daily reached out to both the White House and representatives of the special counsel's investigation for comment, but did not immediately hear back. While the full details of the reported conversations have yet to be revealed, Cohen's lawyer, Lanny Davis, wrote on Twitter late Thursday evening that his client had provided investigators with "critical information." He wrote,
Good for [Michael Cohen] in providing critical information to the #muellerinvestigation without a cooperation agreement. No one should question his honesty, veracity or loyalty to his #family and #country over @potus [Donald Trump]
Of course, Twitter is having a field day with the news.
The report comes just under a month after Cohen pleaded guilty in a federal court in Manhattan on Aug. 21 to charges of financial fraud and campaign finance law violations relating to the payments he facilitated to two women who claim they had affairs with Trump in 2006, which the president denies. After the plea, Davis suggested that Cohen, who once vowed that he would "take a bullet" and "do anything" to protect Trump, would cooperate with investigators. He told ABC's Good Morning America on Aug. 22, "What he knows that he witnessed will be of interest to the special counsel. He will tell the truth to everybody who asks him about Donald Trump."
Meanwhile, Trump has routinely claimed that the Mueller investigation is a "witch hunt" that is based on bias against him. Upon Cohen's guilty plea, Trump slammed his former associate, suggesting in an interview with Fox & Friends that the practice of cooperating with investigators "almost ought to be illegal."
He also suggested that people who do flip aren't actually being honest, telling the hosts that they just "make up" lies, without any apparent evidence. "I've seen it many times," Trump explained. They make up things and now they go from 10 years to they're a national hero."
Eh, who knows. But with things seemingly heating up this much, hopefully Trump is prepared for whatever comes next.