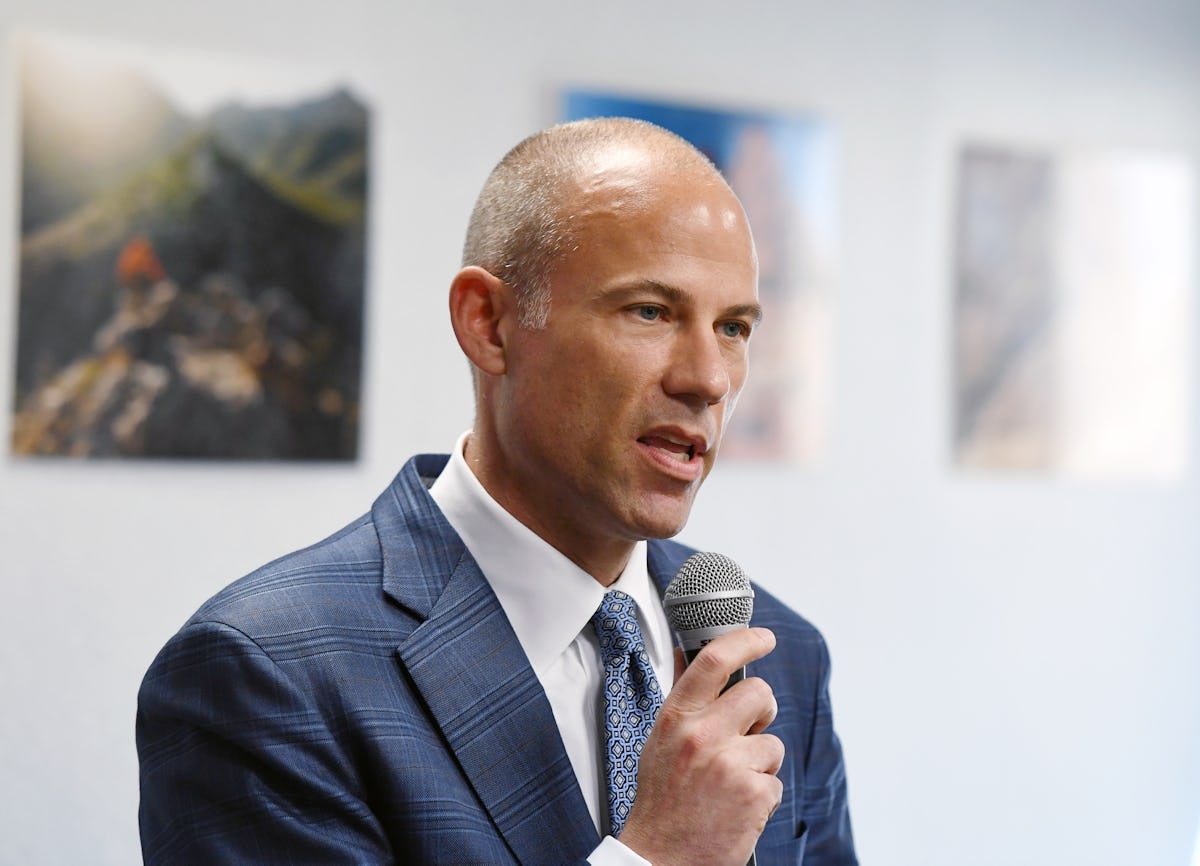 Stormy Daniels' Lawyer Wants To Fight Donald Trump Jr., Because 2018 Is Wild
Ethan Miller/Getty Images News/Getty Images
Michael Avenatti and Donald Trump Jr. could take their feud from social media and into the ring. That's right — Michael Avenatti challenged Donald Trump Jr. to a MMA fight, because there's apparently no shortage of weirdness in 2018. Let's (maybe) get ready to rumble!
Avenatti, a frequent critic of the Trumps who represented adult actress Stormy Daniels in a lawsuit against President Donald Trump and Michael Cohen, reportedly suggested the idea on Tuesday, Oct. 9 during lunch with a reporter. According to a tweet from NBC News and MSNBC reporter Dylan Byers, Avenatti had proposed a "three-round mixed-martial arts fight with Donald Trump Jr. for charity" to him. Avenatti confirmed via tweet that he is, indeed, ready to put his dukes up against Trump Jr., replying, "This would be for two great causes. I'm in." If his proposal gets the green light, the lawyer said he would split his portion of the proceeds between "rebuilding Puerto Rico" from the devastation left by 2017's Hurricane Maria, and RAINN — the Rape, Abuse & Incest National Network.
As of 12 p.m. ET on Oct. 10, Trump Jr. didn't appear to have responded to the challenge. Elite Daily reached out to the Trump Organization for comment on the proposal, but did not hear back by the time of publication.
When political adviser Adam Parkhomenko asked if the two would wear protective gear during the fight, Avenatti didn't hold back, firing out, "You're kidding right? Answer - NO."
Yikes. It doesn't sound like Avenatti is messing around. Though Trump Jr. has yet to respond to the request, they've already got some fans who are ready to see them go blow-for-blow.
"Finally a UFC fight I'd pony up the [Pay-Per-View] money to watch."
"I'll gladly train Jr to smoke [Avenatti] in the cage."
In any case, the fight could be just what Avenatti and Trump Jr. need to settle their differences while working toward a great cause.
The two clashed as recently as Monday, Oct. 8, when Trump Jr. tweeted out an article about former Democratic politician Anthony Weiner's upcoming early release from prison, along with a joke that Avenatti could join a presidential ticket for 2020 with the disgraced former New York congressman.
"Who else is excited about Avanetti/Weiner 2020?!?" Trump Jr. quipped.
Avenatti didn't seem so pleased to be linked to Weiner, who pleaded guilty and was sent to prison in September 2017 for sending sexually explicit messages to a minor, and quickly fired back at Trump Jr. on Twitter. "If I were you, the last thing I would be doing is referencing other people getting out of federal prison," wrote Avenatti, who has openly considered running for president as a Democrat in 2020. "Because after you are indicted, you will likely be passing them on your way in. [By the way], they don't have silver spoons or gold toilets in the joint. Buckle up Buttercup," he continued.
Ladies and gentleman, sounds like we might have an interesting fight on our hands here. Keep your eyes open for a possible time and date. You clearly won't want to miss it.