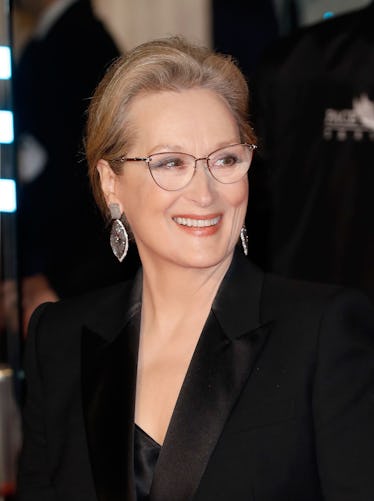 The 'Big Little Lies' Creator Gave Details On Meryl Streep's Character & She's Intense
Tristan Fewings/Getty Images Entertainment/Getty Images
As if Big Little Lies needed more talent, the great Meryl Streep is bringing her acting chops to the HBO series for Season 2. Filming is currently underway and details surrounding Meryl Streep's character in Big Little Lies are slowly starting to roll in, though there's still a lot audiences don't know about what's to come when the series returns. The 21-time Oscar nominee will be playing Mary Louise Wright, the mother-in-law of Celeste (Nicole Kidman). What can viewers expect when Meryl takes on Monterey? Creator and writer David E. Kelley recently dropped some hints on the juicy part, revealing that Meryl's addition was one of the reasons he decided to do a second season. When asked what convinced him to move forward with the story, Kelley explained to The Hollywood Reporter:
A multitude of forces, but mainly it came down to a creative analysis. Liane [Moriarty, author of the novel Big Little Lies] wrote a novella of [new] stories, and most of them we're using. But the genius one was introducing this character who's being played by Meryl Streep. It's a delicious character and I felt bringing her in was both liberating and daunting. Daunting because she sets a high bar and you have to measure up, but liberating in that now the show's not going to be compared to last year. There was freedom in that.
Big Little Lies was originally intended to be a one season miniseries, but fans were left begging for more after its stunner of a finale. Meryl's involvement is obviously helping to give it further life, although the established cast is so good on their own I'd watch an entire season of them just chatting about the weather.
Meryl's Mary Louise will be heading to Monterey "searching for answers" following her son Perry's death. It sounds like her "daunting" presence will make things even more complicated for Celeste and her fellow mom friends. Meryl the villain? Everyone knows just how delightfully devilish she can be.
Or, perhaps Mary Louise will surprise us and form a bond with her late child's family following everything they have been through. Nicole Kidman shared a first-look photo of Meryl in action as she viewed an iPad with her character Celeste and her "darling boys." What are they watching?! Yodeling Walmart kid? The Hours? (Meryl and Nicole actually co-starred in the Academy Award-winning film together back in 2003.)
Like Nicole, Reese Witherspoon expressed her own excitement about Meryl's BLL gig. "Well, she sent an email to Nicole and I. And it said, 'OK, I read the part and I love it and I'm going to do it'," she told Seth Meyers of finding out Streep was signing on. "And I like dropped the phone, like mic drop, but I phone dropped. And then I called Nicole and I was like, 'Is this real life? Is this really happening?' And then I got off the phone with Nicole and I, like, hugged myself gently for a minute and said, 'This is really happening. You're really working with Meryl Streep".'
Meryl joins other new faces for the sophomore season of Big Little Lies. It was recently announced that The Night Of's Poorna Jagannathan will be playing a recurring character named Katie Richmond. Viewers can also expect to see Crystal R. Fox (The Haves and the Have Nots) and Martin Donovan (Weeds, The Dead Zone) as Bonnie's parents, Elizabeth and Martin. The Alienist's Douglas Smith is set to portray an "off-beat surfer, aspiring marine biologist, and Jane's co-worker."
Big Little Lies likely won't premiere until 2019, but we look forward to Meryl's "delicious" performance to come.