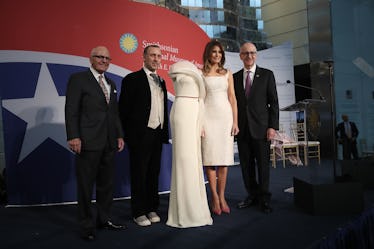 Melania Trump's Stylist Is Launching A Dress Collection, If You Can Afford It
Win McNamee/Getty Images News/Getty Images
If you've got a few grand to throw down, you could be sporting a new gown made by the first lady's designer. Melania Trump's stylist Hervé Pierre is launching a dress collection, Women's Wear Daily (WWD) reports. The launch is slated for December, and the dresses are expected to hit stores in the spring.
Though perhaps not a new name to fashion connoisseurs, Pierre was vaulted into the national spotlight after he designed Trump's 2016 inaugural gown, which was donated to the Smithsonian in October. The collection, Atelier Caito for Hervé Pierre, is the partnership of Pierre and Nicholas Caito, another star of the couture world.
Apparently, the line is a relatively new development. When asked in a September interview with the New York Times whether Pierre would be starting his own line, he said, "I don't need my own line at the moment. Maybe I will, but if I do, it will be for a very specific project: very exclusive, unique, not like something you can find all over." That seems to be just what he's created.
According to WWD, the collection itself adheres to a pared-down approach, a response to what Pierre describes as an oversaturated market. "So there are 12 dresses, and maybe I will add 10 others in May or June, depending on the pieces that sell," he said. The price? One cocktail dress will list for $4,400 and an evening gown will come in at $7,000, with the collection starting around $1,700.
Pierre says the collection was not designed around Trump, but she's aware of it, and "maybe two pieces" would be for the first lady. "I believe a good designer is also a good merchandiser," he told WWD. "You cannot put all your eggs in the same basket. I decided I needed a little sack dress, a form-fitted one, another for a bigger bust, and one for bigger hips — a V-neck, a crewneck, sleeves, no sleeves. You have a grid and you try to find an answer for every category."
Until last year, Pierre had been the creative director of Carolina Herrera for 15 years. It's not his first time designing for dignitaries: He previously worked on dresses for former first ladies Hillary Clinton and Laura Bush while designing for Oscar de la Renta, and for Michelle Obama while at Herrera, he told the Times.
Pierre took up the task of designing Trump's inaugural gown after multiple designers announced they'd refuse to work with her due to her husband's politics. He told the Times he'd never met Trump prior to Jan. 3, and while he'd designed a slew of dresses over the years, this one — which would have historical value — had to be just right.
After the inauguration, Pierre stayed on to help style and design for the first lady. His usual go-to's for picking her pieces are Bergdorf, Saks, Dior, and Michael Kors, he says. He intentionally seeks out pieces that haven't already debuted on the red carpet, adding, "I don't want her to be on the 'Who Wore It Better' list."
His clients, he tells WWD, tend to be "under-the-radar" individuals who aren't flashy with their designer pieces. "What we see all over the news, on Instagram and on social media, is just people who want to show their wealth, money and whatever," he says. "But there are so many layers of women who I know who absolutely don't want to exhibit their wealth or stature. It's a hidden luxury."
That sentiment may or may not apply to the first lady, whose taste for fashion is well known. The former model's wardrobe on her Asia trip could've paid for a year of college. She's drawn criticism of her high-end preferences after wearing designer heels to visit disaster victims (three times) as well as for flaunting her jewels, notably, after her controversial Vanity Fair cover and her White House photo showcasing her $1.5 million anniversary ring. (ICYMI: The Vanity Fair cover was an old photo, back from when Trump was promoting her QVC jewelry line.)
The new line isn't quite as expensive as Trump's ring (you'd need a fleet of luxury cars to get close). But if you've got extra cash hanging around and have always wanted to own a dress designed by a first lady's personal stylist, now's your chance.