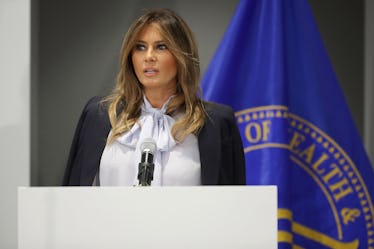 After All Those Suspicious Packages, Melania Trump Is Focused On Something Else
Chip Somodevilla/Getty Images News/Getty Images
As of Thursday, Oct. 25, 10 suspicious packages have been intercepted by the United States Secret Service, addressed to prominent Democrats as well as CNN. Following these reports, a number of individuals have condemned the apparent attempted attacks and expressed their outrage over the situation. And while the first lady spoke up to denounce the apparent attempted attacks,, Melania Trump's response to those suspicious packages could use a little more focus.
On Wednesday, Oct. 24, Melania Trump addressed a crowd while appearing at an opioid crisis event. At the beginning of the event, the first lady took a few moments to discuss the suspicious packages sent to CNN and the likes of Barack Obama and Hillary Clinton, where she publicly condemned these actions and called them "cowardly."
I want to take a moment to talk about today's news, and the attempted attack on President Clinton, President Obama, their families, public officials, individuals, and organizations. We cannot tolerate those cowardly attacks and I strongly condemn all who choose violence. I'm grateful to the Secret Service as well as the local and federal law enforcement for all they do on a daily basis to keep us safe and encourage people across the country to choose kindness over hatred.
Even though Trump's words may be sincere, this is the only time she's spoken about the matter since it occurred. So far, the first lady hasn't mentioned anything about the attacks on her social media pages. In the time following that statement — which, again, prefaced an event on a different subject — the first lady appears to have returned her attention to the opioid crisis, sharing multiple posts to Twitter and Instagram even as reports of more packages sent to high-profile Democrats and Trump critics emerged. Elite Daily reached out to a spokesperson for the first lady for additional comment, but did not immediately hear back.
Trump's statement may be a bit underwhelming, but it's admittedly way more impressive than Donald Trump's response to the suspicious packages. While the first lady expressed her own thoughts and opinions on the ordeal, Donald Trump initially decided to keep his thoughts to himself and let Vice President Mike Pence do the tweeting, so to speak.
Donald Trump's lackluster tweet may be inexcusable to some, but also not that surprising. As individuals such as Barack Obama, Hillary Clinton, and other notable Democrats received these suspicious packages, as did CNN, many are pointing out how Donald Trump's consistent rhetoric criticizing these people and organizations might have inspired these attempted attacks. Elite Daily reached out to the White House for comment but did not hear back by the time of publication. Even though that may be a popular opinion among the public, Donald Trump clearly has another theory. Following the evacuation of CNN's offices, Donald Trump took to Twitter to blame the "fake news media" for contributing to the "anger in society" on Oct. 25.
As of Thursday, Oct. 25, 10 suspicious packages have been intercepted by the United States Secret Service. Vice President Joe Biden and actor Robert De Niro are the latest Trump administration critics to be sent these suspicious packages. In a statement shared with Elite Daily, a spokesperson for Tribeca confirmed that the actor had received a suspicious package in the mail, and authorities were called immediately. The statement read,
A suspicious package was received. We called the police. They took it out and went through all safety procedures. It was addressed to Robert De Niro and is similar packaging to the others. It is an open investigation. Everyone is safe and the building is open.
Even though the Trump administration's response to these attempted attacks aren't necessarily the best, let's hope everyone can come together and support one another through this horrible ordeal. Stay safe, everyone.