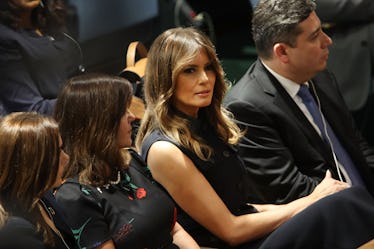 Melania Trump Says "The Violence Needs To Stop" In The Wake Of The Pittsburgh Shooting
Spencer Platt/Getty Images News/Getty Images
Hours after news broke of a deadly shooting at a Pittsburgh synagogue, First Lady Melania Trump is condemning the act of hatred, which left at least 11 dead and several others injured. She took to Instagram on Saturday, Oct. 27 to post a message echoing the thoughts that I think many people are feeling right now. While her husband President Donald Trump came under fire for claiming to journalists that an "armed guard" could have prevented the shooting in the aftermath of the attack, Melania Trump's response to the Pittsburgh synagogue shooting calls for an end to the cycle of violence and puts the blame where it should be: on the shooter himself.
It's been a tough week that's appeared to expose the country's disunity and some hateful undercurrents leading up to the Nov. 6 midterms: On Wednesday, Oct. 24, "potential explosive devices" were sent to high-level political figures in the Democratic Party including former President Obama and Hillary Clinton, and on Saturday, Oct. 27, a gunman opened fire on a Jewish service at the Tree of Life synagogue in the Squirrel Hill neighborhood, per CNN.
The first lady took to Instagram to share her thoughts in wake of the tragedy. "My heart breaks over the news out of #Pittsburgh," she wrote alongside a graphic.
The violence needs to stop. May God bless, guide & unite the United States of America.
Per The New York Times, the gunman reportedly shouted anti-Semitic slurs as he opened fire in the Pittsburgh synagogue. CNN also reported that law enforcement officials relayed that the gunman made such statements. While many have called for unity amidst the attack, the shooting has again called into question the country's stance on gun control.
Rebuffing reporters' questions about whether the government would be spurred to re-examine current gun control laws in wake of the tragedy, President Donald Trump said, per USA Today, "This has little to do with it if you take a look. If they had protection inside the results would have been far better. Maybe it could have been a very much different situation." Elite Daily reached out to the White House for further clarification of President Trump's remarks, but did not hear back at the time of publication.
However, when asked if he was pushing for synagogues and other places of worship to instate armed guards in case of shooters, Trump replied, "No, [but] it's certainly an option," according to CNN.
While he refused to condemn gun control laws, President Trump — whom many have criticized for his increasingly anti-immigrant rhetoric and even re-tweeting material from anti-Semitic accounts, according to The New York Times — emphasized a need to do something about the "hate in our country," including strengthening the death penalty.
"They should pay the ultimate price," Trump told reporters, according to CNN. "It's a terrible, terrible thing what's going on with hate in our country, frankly, and all over the world. And something has to be done." Elite Daily reached out to the White House for further clarification on President Trump's comments on the death penalty, but did not hear back at the time of publication.
While President Trump raised the discussion of a stronger death penalty, first Lady Melania Trump has taken a more peace-minded approach and called for an end to the violence.