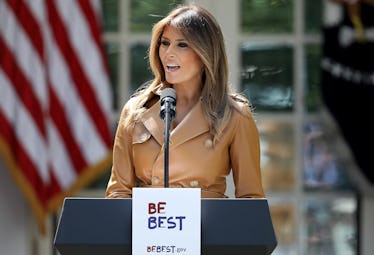 Melania Trump's Memorial Day Message Is So Perfectly Patriotic & It's Beautiful
Win McNamee/Getty Images News/Getty Images
It's Memorial Day and that means that no matter who you are, no matter where you come from, and no matter your political leanings, it's a day to recognize those who made the ultimate sacrifice for our country. And First Lady Melania Trump is doing just that today. Flotus took to Instagram to express her gratitude to the many Americans who lost their lives serving the United States. For many, Melania Trump's memorial day message holds a lot of meaning, especially in these politically divisive times.
Here's what the First Lady had to say:
On #MemorialDay we honor the many Americans who laid down their lives for our great country. As one nation under God, we come together to remember that freedom isn't free. Thank you to all the service members & their families who sacrifice so much to keep us safe.
For those who have served or those who have lost loved ones in service, the First Lady's message is a reminder that the freedoms Americans enjoy do come at a price. And, ultimately, Memorial Day is a reminder to take stock of that.
After the First Lady posted her Memorial Day message, her dedicated followers immediately started swarming the post with enthusiastic comments.
See the First Lady's Instagram post down below:
One Instagram follower was thankful that Trump remembered those who have fallen in the line of duty:
Thank you for remembering those who had give their life's for our freedom ♥️🇺🇸
Another Instagram user took the opportunity to express their own gratitude for being American:
On this Memorial Day we remember and honor all the men and women who fought and died to keep Old Glory flying high o'er the land and the sea and the home of the brave. We thank you for your service. Thank you God for making me an American living in the greatest country this side of heaven. 🇺🇸🇺🇸🇺🇸🇺🇸🇺🇸🇺🇸🇺🇸🗽🗽🗽🗽🗽🗽
And yet another was super enthusiastic about Trump's dedication to her adopted country:
Thank You @flotus For Remembering Our Heroes. And Bringing Class To The White House. God Bless All Our Veterans Heroes And God Bless America. #🙏🏻🙏🏻🙏🏻🇺🇸🇺🇸🇺🇸🇺🇸🇺🇸🇺🇸👍🏻👍🏻♥️♥️
For those of you who aren't aware, the First Lady hails from Slovenia. She became a permanent United States resident in 2001 and gained citizenship in 2006.
But not everyone was on board with what the First Lady posted.
"Here are some empty platitudes for a bank holiday nobody cares about," wrote another user.
For the most part, the negative comments were kept to a minimum. Mostly, people were thanking the First Lady for her dedication to the U.S. and wishing her well after her kidney surgery, which she underwent on May 14. According to the First Lady's communications director, Stephanie Grisham, the surgery was needed to treat a "benign" kidney condition:
This morning, first lady Melania Trump underwent an embolization procedure to treat a benign kidney condition. The procedure was successful, and there were no complications … Mrs. Trump is at Walter Reed National Military Medical Center and will likely remain there for the duration of the week. The first lady looks forward to a full recovery so she can continue her work on behalf of children everywhere.
At the time, President Trump tweeted that he was heading over to the hospital to see to his wife:
Heading over to Walter Reed Medical Center to see our great First Lady, Melania. Successful procedure, she is in good spirits. Thank you to all of the well-wishers!
All in all, it sounds like the First Lady is doing well, which is great to hear. Hopefully, the First Lady is recovering and feeling much better after her surgery.