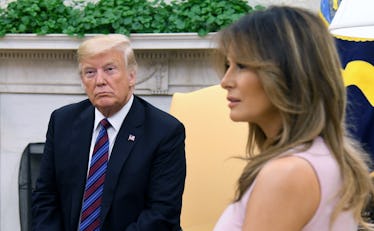 Melania Trump Reportedly Refused A Joint TV Appearance After The 'Access Hollywood' Tape
Pool/Getty Images News/Getty Images
If I were Donald Trump, I would never want to hear the word "tape" ever again. The current United States' leader has been up to his neck in alleged recordings of White House conversations, but it looks like his past is also coming back to haunt him. According to reports, Melania Trump refused a joint appearance with Donald Trump after the Access Hollywood tape surfaced back in October 2016. Elite Daily reached out to the first lady's spokesperson for comment about the reports, but did not hear back in time for publication.
Since Washington Post reporter Bob Woodward's upcoming book, Fear: Trump in the White House was leaked on Tuesday, Sept. 4, everyone has been scrambling to hear about all the nitty gritty in the White House. Well, apparently there's been some slight drama between first lady Melania Trump and her not-so better half following that infamous Access Hollywood tape. According to Woodward, Melania refused to take part in a joint television appearance with Trump to alleviate the turmoil that came from the Access Hollywood tape being leaked.
On Wednesday, Sept. 5, The Guardian shared an anecdote from the book about Melania's alleged refusal. According to Woodward, Melania refused to appear on TV as part of damage control after the tape.
"'Not doing that,' Melania said in her Slovenian accent, dismissively waving her hand," Woodward wrote in his book. "'No way. No, no, no.'"
Nothing is more exciting than a political tell all book, and Woodward's certainly doesn't disappoint. Someone grab a seat and serve that tea.
In October 2016, during Trump's presidential campaign, a tape was leaked from the set of NBC's show Access Hollywood. In the tape, Trump is heard bragging to host Billy Bush about how celebrities can grope and kiss women without their consent. Trump later issued an apology, saying that the words didn't reflect who he was and in a statement called the tape "locker room talk."
In response to the leaked tape, Melania Trump released her own statement in October 2016 saying that Trump's words are "unacceptable and offensive." She said,
The words my husband used are unacceptable and offensive to me. This does not represent the man that I know. He has the heart and mind of a leader. I hope people will accept his apology, as I have, and focus on the important issues facing our nation and the world.
Naturally the tape caused severe backlash and controversy among the public when it surfaced, and even though it leaked nearly two years ago it still has haunted Trump to this day. In April, FBI agents raided the office of Trump's former personal attorney, Michael Cohen's, and reportedly took records on the Access Hollywood tape.
Melania is certainly a woman who stands by her man, but even she has to be tired of the daily White House drama. There's been a few moments where the first lady's expression has made it clear she's not particularly enjoying the spotlight. Just take the 2018 State of the Union address on Jan. 30 as an example, when Melania Trump declined to stand and clap during her husband's speech when he discussed the importance of "faith and family."
Despite the controversy surrounding the Trump family, I truly don't think Melania asked for any of this drama to happen. If I were her, I'd be avoiding television appearances for as long as possible.