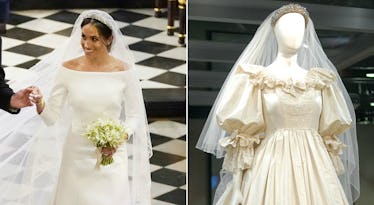 Here's Exactly How Meghan Markle's Wedding Dress Compares To Princess Diana's Wedding Dress
WPA Pool/Getty Images Entertainment/Getty Images // William Thomas Cain/Getty Images Entertainment/Getty Images
One of the biggest sartorial reveals of 2018 just went down in a little place called Windsor Castle. The much-anticipated royal wedding has officially begun, meaning we can finally analyze Meghan Markle's wedding dress vs. Princess Diana's wedding dress. Because that is what us fashion and celebrity-obsessed people do, right?
For months, people having speculating about which designer or design house would be bequeathed with the honor of designing Markle's dress. All signs pointed to a British creative helming the gown, but nothing was for certain. We now know that Clare Waight Keller for Givenchy was the lucky designer to get to execute the job, and execute it they did. But before we get into the specifics of Markle's gown, let's first head back to July 29, 1981, when Princess Diana wore a now-iconic cupcake of a dress for her own walk down the aisle.
Valued at £9,000 (which was equivalent to £31,658, or around $42,800 USD, in 2016), Diana's dress was as expensive as a year's worth of rent on a two-bedroom New York City apartment. And it was the size of one, too. Created by London-born designer, Elizabeth Emanuel, it was a behemoth of a gown, complete with a 25-foot train of taffeta and lace. Featuring an oversized ruffled collar, puffed ballon sleeves, and a voluminous skirt, it was larger than life in every way and very, very '80s.
The dress was made of a ivory silk taffeta, which was decorated with accents of lace, hand embroidery, sequins, and — the best part — 10,000 pearls. To say it was embellished would be an understatement and although it's not my style (I prefer minimal wedding dresses with fitted skirts and approximately zero pearls) there's no doubt that it constituted one of the most iconic moments in fashion.
Because Markle's style is decidedly more understated (and because it's 2018), it was presumed that her dress would greatly differ from Diana's. And as we've seen today, it did. There were no flounces, no frills, and no furbelow. Meghan's dress was classic and timeless, and her vision of classic and timeless turned out to be absolutely plain.
This is huge departure both from Diana and from Middleton, to be clear. Diana's gown was a cupcake, a giant floof of a gown, and kicked off the over the top gowns that dominated the '80s ever after. Middleton's was fittingly more updated, befitting a more modern sensibility, but still with a wide A-line skirt. Middleton's dress wasn't plain, and her bodice and sleeves basically formed a lace overlay over the entire gown.
Middleton's dress kicked off a craze for this sort of silhouette and lace trim for the past few years in weddings. (Trust me, I've attended enough of them.) Markle is getting married in the wake of a trend that her sister in law set off. She could have gone completely the other way and set off a trend of her own.
It speaks to the tastes of both Middleton and Markle that instead, she actually chose to continue the trend Middleton started, and take it even less accessorized, in order to make sure that 100 years from now, no one will look at it and say "oh, that's so 2018," which, to be honest is what most people say when they look at Diana's.
Markle's dress was designed by Clare Waight Keller for Givenchy, which was a real surprise. (Most rumors had her either wearing Stella McCarthy or Ralph & Russo.) Her veil, for the record, has the symbols of all 53 members of the British Commonwealth, which is the only detailing on her whole outfit (and also accounts for why the veil is so long.) Her tiara is the Queen Mary Diamond Bandeau. If this look kicks off an era of wedding gown minimalism for the next few years, don't be surprised.