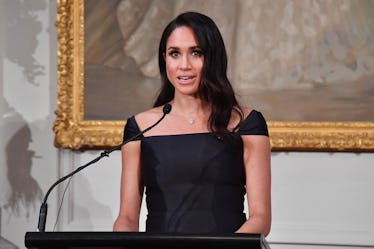 Meghan Markle Wore The Ultimate Feminist Statement For A New Zealand Speech
Pool/Getty Images Entertainment/Getty Images
Meghan Markle is bending royal protocol to champion a cause that's near and dear to her heart. After landing in New Zealand for the final stop on her 16-day Royal Tour with Prince Harry, the Duchess of Sussex delivered a stirring speech on Sunday, Oct. 28 to honor the 125th anniversary of female suffrage. In a nod to the occasion, Meghan Markle's navy dress by Gabriela Hearst, a notable feminist designer and political activist, was so meaningful, and speaks to Markle's continuing work for gender equality. Elite Daily reached out to Buckingham Palace for comment on the possible message behind the dress, but did not hear back by the time of publication.
On Sunday, the newest member of the royal family applauded New Zealand for paving the way for women's suffrage around the world by being the very first country to allow women the right to vote, which it did in the country's 1893 parliamentary elections. Per a clip shared by Kensington Palace's Twitter account, Markle thanked the nation for being the first to shatter this glass ceiling while dressed in a gown befitting the significant occasion — a £1,900 (about $2,170 U.S. dollars) cocktail number designed by renowned feminist designer Gabriela Hearst. The New York designer has made a name for herself with collections inspired by empowering female figures such as Angela Davis and Senator Kamala Harris, according to The Daily Mail, and the duchess made sure she dressed with a purpose for the celebratory event.
"Bravo, New Zealand for championing the right of women to vote 125 years ago," Markle told the crowd at Wellington's Government House. Standing in front of a portrait of Queen Elizabeth, Markle began her powerful oration by paying homage to the Maori culture with a traditional greeting, according to People.
"The achievements of the women of New Zealand who campaigned for their right to vote, and were the first in the world to achieve it, are universally admired," she told the audience, which included Prime Minister Jacinda Ardern and Governor Dame Patsy Reddy, according to People. "In looking forward to this very special occasion, I reflected on the importance of this achievement, but also the larger impact of what this symbolizes."
Per People, she continued, "Because yes, women's suffrage is about feminism, but feminism is about fairness," before reflecting, "Suffrage is not simply about the right to vote but also about what that represents: the basic and fundamental human right of being able to participate in the choices for your future and that of your community, the involvement and voice that allows you to be a part of the very world that you are a part of."
Markle's powerful speech and the meaning behind her ensemble of choice was a departure from general royal etiquette. While it's the 21st century and equality for women is hardly a contentious issue, the royals tend to shy away from making any kind of political statement. Back in February, sister-in-law Kate Middleton came under fire for seeming to ignore the all-black #MeToo-inspired dress code at the BAFTAs, instead opting for a dark emerald green gown and matching jewels. However, royal family expert Imogen Lloyd Webber claimed during a segment on Good Morning America that the Duchess of Cambridge could have been paying homage to the Time's Up movement — however subtle — with her choice of color.
"She was wearing green, which is the color of hope for the suffragette movement in the UK," Lloyd Webber said, according to Travel + Leisure. "She was wearing emeralds, which is a sign of feminine empowerment."
Especially in this day and age, it should not be seen as making a political declaration to stand up against sexual assault and gender inequality, and Markle insisting on dressing with a special purpose in mind is a powerful statement.