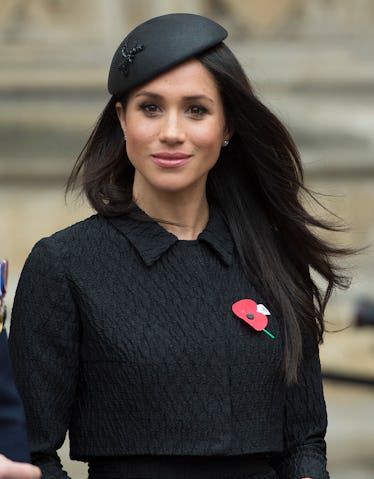 I Just Found Out Meghan Markle's Mom's Nickname For Her, & Now I'm Crying
WPA Pool/Getty Images Entertainment/Getty Images
Hey, do you feel like crying buckets of tears? You do? Great! Because I have an adorable story about the soon-to-be Mrs. Prince Harry that will actually make your heart melt. It's no secret that Meghan Markle has a deep level of love and respect for her mom, Doria Ragland, and the two have always had a close relationship, which I totally love. But now, an old post from Markle's former lifestyle blog, The Tig, has surfaced, and it has revealed Meghan Markle's mom's nickname for her, and you can bet that it's quite possibly the cutest term of endearment that any mom could give to her daughter.
An old post from The Tig just resurfaced online via Marie Claire, and it reveals Markle's adorable nickname given to her by her mother. In the post, entitled "How to Be Both," Markle wrote,
I'm consistently asked how I keep a foot in two contrasting worlds – one in the entertainment industry, predicated on wealth and indulgence, and the other in humanitarian work. To me, it's less of a question of how can you do this, and more a question of how can you not?
Meghan Markle is basically Superwoman, ladies and gents. The post continued, saying,
"I don't know, Flower. You were just born that way." This is my mom's response to the aforementioned question, and indicative of the character traits she knows me to have so well: opinionated, driven, and with a deep desire to affect change. "It's just who you are," she says. (And yes, she calls me, "Flower.")
Oh. My. God. Could this be any sweeter? This is all sorts of adorable and makes me want to go call my mom ASAP (and ask that she call me Flower from now on).
I love that Markle and her mother are so close to each other, too. I mean, my mom and I are BFFs, but the only nickname I get is when she accidentally calls me by my sister's name, which doesn't really count.
But back to Meghan and Doria: These two are beyond tight, so much so that Meghan Markle's mom reportedly traveled to London earlier in May to help her daughter out with all of the last-minute details. And, considering this wedding will undoubtedly be one of the greatest weddings of the decade, it makes sense Markle wants her mom there to help iron out any royal kinks. Good Morning America's royal contributor, Omid Scobie, agreed that, much like a normal, non-royal bride, having your mom by your side can really help calm those pre-wedding nerves. Scobie said,
It's no doubt a stressful and very busy time for Meghan so having her mother by her side, especially on Mother's Day, will no doubt alleviate some of those nerves.
Plus, it was also Mother's Day weekend, so methinks that this trip served a dual purpose.
And it looks like Ragland isn't the only one who travels to keep their relationship close, either. Last month, Markle secretly flew to Los Angeles so that she could spend some quality time with her mom before the big day.
Be still my cold, cold heart.
According to Scobie, Markle managed to "quietly" leave the UK and take the trip because she's obviously the best daughter ever. Scobie took to Twitter and wrote,
Latest via @GMA: Sources tell me that Meghan Markle quietly jetted out of London last Thursday to spend quality time (and talk wedding plans!) with her mother Doria in Los Angeles ahead of her #RoyalWedding to Harry next month.
Can we all just agree how incredible Flower and Doria are? Oh, so it's totally cool when her mom calls her Flower, but it's weird when I say it? Fine. I can't wait to see Meghan celebrating at her wedding with her mom in just a few short days. The royal countdown has officially begun!