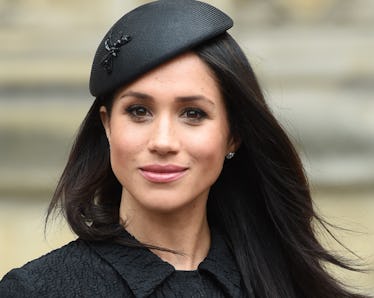 Meghan Markle's Mom Is In London, Because Even Royal Brides Need Mom's Help
WPA Pool/Getty Images Entertainment/Getty Images
Are you already counting down the days until the royal wedding is finally here? Of course you are. Meghan Markle and Prince Harry will start their royal lives together on May 19, and I couldn't be more excited. But if you thought that Markle is nothing like us regular folk here outside the castle, you are mistaken. Meghan Markle's mom is in London, because when it comes to a wedding, even royals need their moms' help.
The wedding everyone's been waiting for is less than two weeks away, and preparations are well underway. So of course the mother of the bride wants to be on hand to help out, even (especially?) if her daughter happens to be marrying a prince. Which is why Markle's mom, Doria Ragland, arrived in London on May 10 to help out with that last-minute royal wedding to-do list, according to ABC.
I've never been married, but I'm guessing normal brides want their mothers by their side as they gear up to walk down the aisle, so why should royal brides be any different? Good Morning America's royal contributor, Omid Scobie, pointed out that it's not different at all. Like any bride with her wedding barely a week away, Markle is probably pretty stressed out and busy, so she will probably be happy to have her mother by her side. Scobie said,
It's no doubt a stressful and very busy time for Meghan so having her mother by her side, especially on Mother's Day, will no doubt alleviate some of those nerves.
Royals: they're just like us.
Markle's mother is African-American and her father, Thomas Markle Sr, is white, so Markle is making history as the first biracial woman to marry into the royal family. But that's not the only history-making aspect of the upcoming royal nuptials. In royal weddings, the tradition is to have the father of the bride escort his daughter to St. George's Chapel on the day of the wedding. Markle, however, lobbied to have her mother do it instead, according to ABC. So on May 19, Ragland will accompany Markle to the chapel.
Speaking of Markle's father, though he won't be escorting his daughter to the chapel, he will be walking her down the aisle on the wedding day. Unlike his ex-wife, Markle Sr. isn't in London yet but, according to Scobie, is set to arrive next week from Mexico. Scobie told Good Morning America,
Next week he'll be joining Doria and Harry and Meghan at the private wedding rehearsal at Windsor Castle, where it will be the parents' first chance to see just how big this fairy tale wedding is.
At least the parents of the bride don't have to foot the bill this time, right?
While in London for the wedding, Ragland and Markle Sr. will also meet the royal family for the first time, including Queen Elizabeth, according to Us Weekly. Prince Harry's communications secretary said in a May 4 statement that Markle's parents are arriving early so that they also get a chance to spend some time with their new royal in-laws The statement said,
Prince Harry and Ms. Markle are very much looking forward to welcoming Ms. Markle's parents to Windsor for the wedding. Mr. Thomas Markle and Ms. Doria Ragland will be arriving in the U.K. in the week of the wedding, allowing time for Prince Harry's family, including The Queen, The Duke of Edinburgh, The Prince of Wales, The Duchess of Cornwall and The Duke and Duchess of Cambridge, to spend time with them before the big day.
I'd like to see that family meeting turned into a movie all on its own. Can someone make that happen?
Until that blockbuster gets made (I want credit), I will make due with ogling over every detail of the May 19 royal wedding. I just have to find wherever I put my tiara back in 2011.