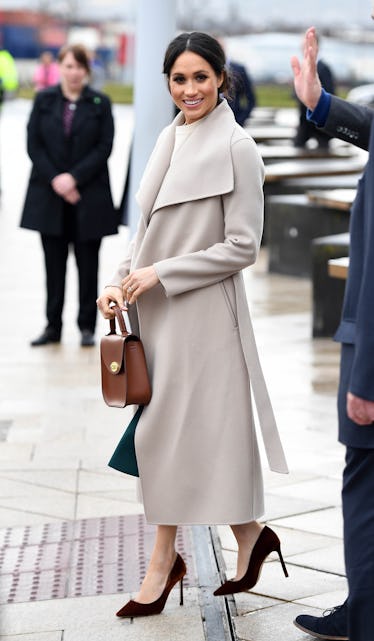 Meghan Markle Reportedly Made A Secret Trip Out Of The UK For The Sweetest Reason
Pool/Getty Images Entertainment/Getty Images
When a couple's wedding is just weeks away, most brides would be running around like madwomen trying to iron out all of the last-minute details. The guest list needs to be tallied, your song choices have to be submitted to your DJ, and the walk-through with your wedding planner has to be perfected. Basically, it's chaos. But Meghan Markle is clearly not sweating the small stuff in the slightest — she straight-up left the UK the month before her wedding, proving that she is going to be one laidback bride. But where did she go? Meghan Markle's secret trip to Los Angeles was to visit her mom, Doria Ragland, meaning that time with her loved ones is much more important than something like choosing linens for her wedding day (but let's be honest, she's probably already done that, and they're probably ultra-gorgeous).
According to Good Morning America royal correspondent Omid Scobie, Markle managed to "quietly" duck out of the U.K. and head to Los Angeles just to spend some time with her mom before the big day. On Twitter, Scobie said:
Latest via @GMA: Sources tell me that Meghan Markle quietly jetted out of London last Thursday to spend quality time (and talk wedding plans!) with her mother Doria in Los Angeles ahead of her #RoyalWedding to Harry next month.
Of course Meghan Markle managed to go hang out with her mom, who lives in a different country, while the countdown to her wedding is in full swing. Why? BECAUSE SHE'S THE ACTUAL SWEETEST.
And I love her even more for it, not going to lie.
It's no secret that Markle admires her mother. In an interview with Glamour back in August of 2017, she named her mom as one of the top 10 women who have changed her life. She said,
My mom's a yoga instructor, but she does social work, as well, and she works specifically with the geriatric community. For me to watch this level of life-long sensitivity to nurturing and caregiving, but at the same time my mom has always been a free spirit ... We can just have so much fun together, and yet, I'll still find so much solace in her support. That duality coexists the same way it would in a best friend.
BRB, weeping.
Her mom is so important to her that it may actually be Doria walking Meghan Markle down the aisle, and not her father, Thomas Markle. A source told E! News that Markle is hoping to "break a tradition or two" on her wedding day, so we just might see that happen at their ceremony.
Even though Markle's parents are separated, they issued a joint statement through the palace when their daughter and Prince Harry got engaged, saying, "We are incredibly happy for Meghan and Harry. Our daughter has always been a kind and loving person. To see her union with Harry, who shares the same qualities, is a source of great joy for us as parents," adding, "We wish them a lifetime of happiness and are very excited for their future together."
No matter who Markle chooses to walk her down the aisle, it's clear that she has love and respect for both her mother and her father. She's also reportedly gifting her father a family coat of arms, which is a tradition when marrying into the royal family. According to People, "the traditional design, customized with colors and symbols, is typically given to the father of the bride just ahead of a royal wedding," and even though Kensington Palace and the College of Arms did not comment on "whether or not a coat of arms will be gifted to Meghan's dad, Thomas Markle, in honor of the royal bride-to-be's May 19 wedding, it's a tradition that will likely be followed."
So basically, Meghan Markle is a family girl, through and through.
No, no, Meghan. Thank you.