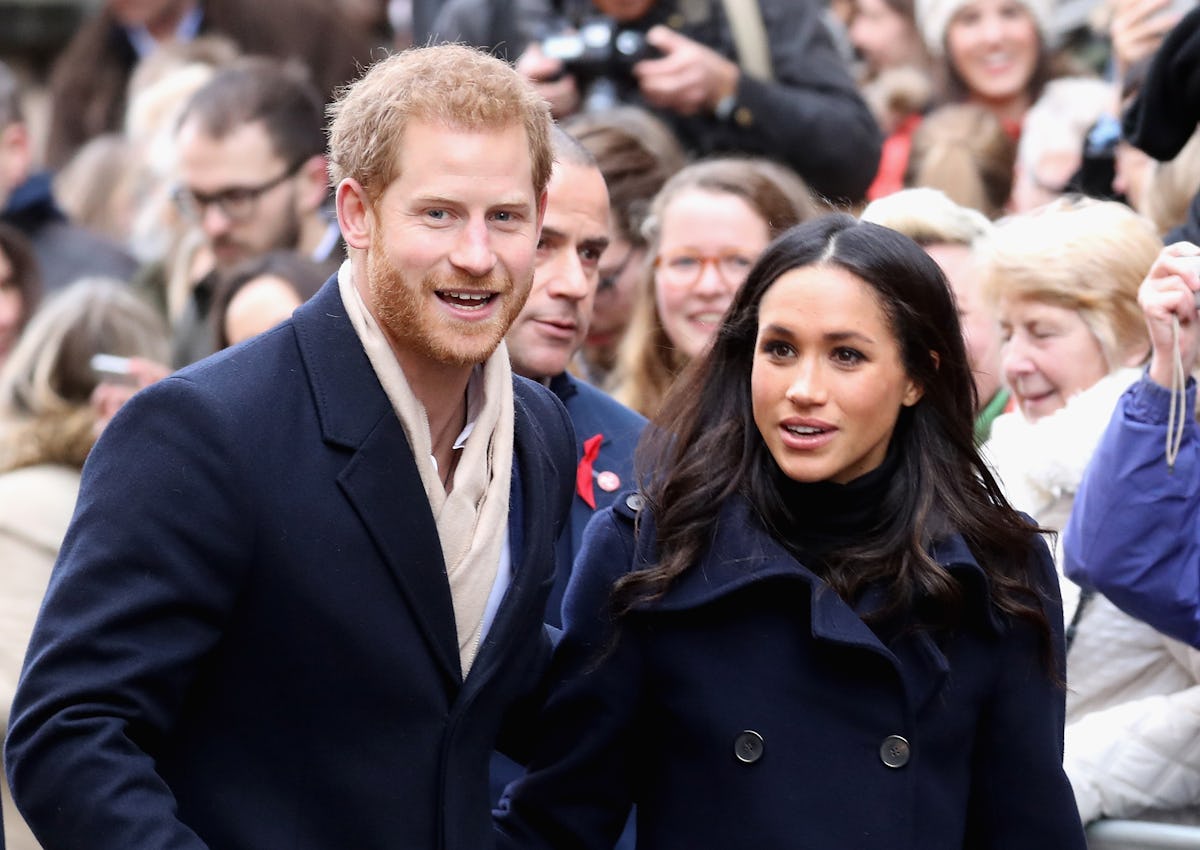 Meghan Markle's Old Instagram Might Hold A Sweet Clue About Her Wedding To Prince Harry
Chris Jackson/Getty Images Entertainment/Getty Images
At this very moment, there is literally no cuter couple than the soon-to-be wed Meghan Markle and Prince Harry. They are socially conscious, visually stunning, and their chemistry is electric (watch their first television interview together... you'll see). Unfortunately, they're also really, really private, so we don't know a ton about their upcoming nuptials. However, Meghan Markle's Instagram post might clue us in to a detail about her wedding, and *prepare yourself* because it is yet another overload of adorable.
According to a report from The Telegraph, the couple is set to have a banana cake for their big day. The source didn't elaborate much more on the subject, though they did note that Prince Harry loves "anything with banana."
Also, apparently the whole traditional wedding cake thing is going the way of the birds, according to wedding cake designer Rosalind Miller, who told The Telegraph.
A traditional wedding cake is a rich fruit cake, like a Christmas cake, where all the cake is soaked in alcohol first. But with Meghan being American, they are more used to having sponge cakes. We find that in actual fact, most couples that come to us also want sponge cakes these days. The traditional rich fruit cake is not very popular now.
So, that's all well and good, but what's really got me convinced that there might be a little more to the whole banana concept that meets the eye is Markle's own social media. Namely, in Oct. 2016, Markle posted the following picture to Instagram:
Markle was reportedly already dating Prince Harry at the time, so it kinda only makes sense that she'd be thinking of him when she posted this picture of two very cozy looking bananas spooning together.
Dessert preferences aside, could this post be some sort of indication that the couple have a cute insider thing about bananas and that's why they're using the fruit for their cake? It's hard to say, but I am very much enjoying the idea of that being the case. Basically, that would be one more reason to fall head over heels for these two (and only feeling a tiny drop of jealousy).
Some things we do know for certain about the upcoming wedding? Well, according to E! News, Prince Harry has already asked his brother, Prince William, to be his best man. Harry's niece and nephew will also reportedly play roles during the wedding day as well. The two will get married at St. George's Chapel, on the Windsor Castle grounds.
Logistics aside, it's also worth noting that the two had the loveliest of engagement stories as well.
"It was so sweet and natural and very romantic," Markle said during an interview with BBC. "He got down on one knee. As a matter of fact, I could barely let you finish proposing. I said, 'Can I say yes now?'"
Harry added,
There was hugs and I had the ring in my finger. I was like, 'Can I give you the ring?' She goes, 'Oh, yes! The ring!'
They also had the most beautiful courting story as well, which involved camping under the stars in Botswana (because, duh).
"We were really by ourselves, which was crucial to me, to make sure that we had a chance to get to know each other," Prince Harry told BBC.
Markle added,
We were able to really have so much time just to connect, and we never went longer than two weeks without seeing each other, even though we were obviously doing a long-distance relationship. We made it work.
Yup, just feeling a tiny amount of jealousy.
Here's to so, so many adorable royal wedding details to coming. I'll just be here... impatiently waiting.