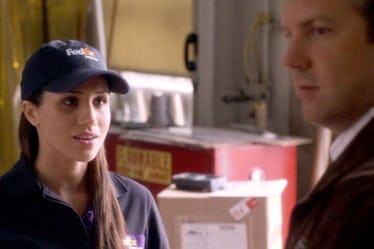 Meghan Markle's 'Horrible Bosses' Scene Is The Best Throwback You'll See Today
Warner Brothers
There's something delightfully 21st Century about Prince Harry and Meghan Markle's engagement. Everything about it is a Cinderella story, but one that's somehow yet hilariously of our era, because nothing about it is all that enchanted. She and Harry didn't meet at some ball, they were set up on a date, like we've all been. Markle was an actress, but these weren't Grace Kelly, Oscar and Golden Globe-winning films she was making. She was on Suits, on basic cable USA. Moments like Meghan Markle's Horrible Bosses scene, which are just forgettable tripe in equally non-glamorous comedies, help remind us that regular people can turn around and find themselves about to be Duchesses, too.
People have been comparing Markle to a modern day version of Grace Kelly. But folks forget that Kelly was a serious actress with the making of an A-list career when she decided to walk away and get married to the Prince of Monaco. Despite appearing in country westerns like High Noon and lightweight musical films like High Society, Kelly had already won the Academy Award for Best Actress in 1954 and two Golden Globe Awards — once in 1951 for Best Supporting Actress in Mogambo and again in 1954 for Best Actress for her role in The Country Girl. If Prince Harry were engaged to our modern day version of Grace Kelly, he'd be marrying someone more like Lupita Nyong'o.
But that's the whole point. He's not marrying our version of Grace Kelly. Or perhaps it would be more accurate to say, in today's world, the ones who marry princes aren't the perfect Grace Kellys. They're not perfect A-listers right out of the box. Meghan Markle did TV movies like When Sparks Fly and wound up making ends meet in bit parts for shows like Castle and Fringe. The biggest on-screen movie she ever made was Horrible Bosses.
Do people even remember Horrible Bosses? At least people remember Suits as it has the benefit of still being on the air. It runs trailers during the far more popular WWE RAW and Smackdown, or during far more critically acclaimed Mr. Robot.
For those who have dropped this film down the memory hole (and it's equally forgettable sequel, called Horrible Bosses 2, natch), here's a quick refresher. It was a bad workplace comedy starring Arrested Development's Jason Bateman, along with Charlie Day and Jason Sudeikis from It's Always Sunny in Philadelphia. The plot was that the three of them make a pact and plan to kill off their terrible bosses. (The bosses, by the way, were played by Jennifer Aniston, Colin Farrell, and Kevin Spacey.)
So, what does Meghan Markle have to do with all this? Very little! She seriously shows up in one 35 second scene as a FedEx delivery person. Her role is to show us that Jason Sudeikis isn't exactly the greatest hero in the world. He's that smarmy jerk that most women in Markle's shoes would be trying to avoid during the daily delivery run, lest he try and ask them out, and then turn into a creepy stalker when rejected.
Check out Markle doing her best impression of a woman trying to decide how best to extricate herself from both the situation and the film, post haste.
Markle was lucky. Horrible Bosses came out in 2011, and "exceeded financial expectations" by not being a complete flop. But before she could get forced into replaying the part in the contractually obligated sequel, Suits came along. It was picked up by the USA Network, and started airing that June.
And the rest, as they say, is history.