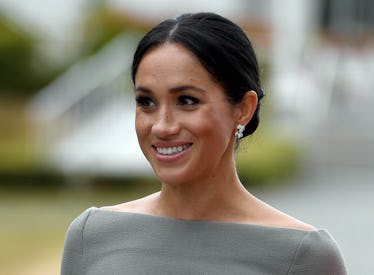 Meghan Markle's First Interview As A Royal Won't Be About What You Thought It Would Be
Pool/Getty Images Entertainment/Getty Images
Meghan Markle is a pro at giving interviews thanks to her acting career, but we haven't seen her give any interviews since becoming a member of the royal family. The royal family, while extremely public figures on the world stage, don't give many interviews whatsoever unless someone is getting married or they're doing an interview to raise awareness about one of their philanthropic efforts. Now, Meghan Markle's first royal interview is on its way, but it's not going to delve into any of the drama her father, Thomas Markle, has caused since she married Prince Harry in May.
According to Daily Mail royal correspondent Rebecca English, the Duchess of Sussex's first interview was done for a documentary about Queen Elizabeth that will air on ITV in September. English says the documentary, called Queen of the World, will "offer a unique insight into Her Majesty's role as a figure on the global stage and the baton she is passing to the younger members of the family as they continue her passion for the Commonwealth." Prince Charles, Prince Harry, Prince William, and Princess Anne have all given interviews for Queen of the World as well, so this documentary will give us a rare piece of media where members of the royal family come together to talk about their matriarch.
Meghan and Harry did separate solo interviews for the documentary, which has been in the works for over a year now, but it's possible the family filmed some scenes together for it. The last time we saw Meghan and Harry give an interview together on this level was on Nov. 27, 2017, after they got engaged.
These two are experts at giving interviews at this point, so we can expect some of that #goodcontent from them in Queen of the World.
One person who's not great at interviews, yet still insists on giving them, is Thomas Markle. Markle and his other children, Samantha Markle and Thomas Markle Jr., have been giving interview after interview disparaging Meghan and Harry ever since they got married. The documentary about the queen 100 percent will not include any of this drama, but I have a sneaking feeling it's going to, unfortunately, trigger more interviews from the Markles, so brace yourselves for that one.
Meghan apparently feels guilty about all of the drama her family has caused the royal family and is nearing the point where she wants to call in the best intervention she can think of: her mother, Doria Ragland. A source told The Daily Mail that Meghan hasn't wanted her mother involved in all of the stress Thomas Markle has caused.
"So far," they said, "Meghan's mom hasn't gotten involved, but that may all change when they see each other in person. Meghan has been adamant that her mom not get dragged into all the drama. But if anyone can talk some sense into her dad, it's Doria." They continued, "Meghan is now open to the possibility of her mom working some magic behind the scenes." Queen of the World will debut in September on ITV in the UK. Hopefully all of this Thomas Markle drama is over by then.