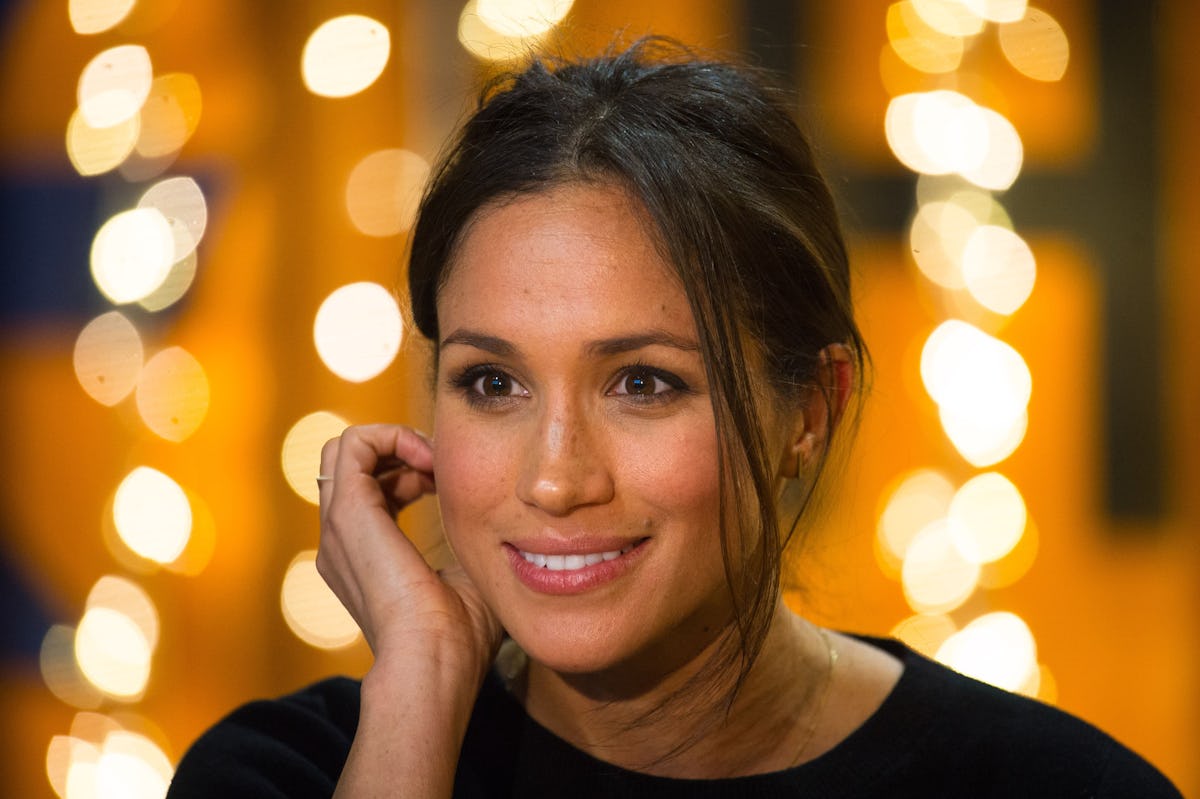 Here's What Meghan Markle Got For Her First Royal Gift & It's Pretty Disappointing
WPA Pool/Getty Images Entertainment/Getty Images
In May, Meghan Markle and Prince Harry will make their way down the royal aisle, and the gifts are starting to roll in. On Wednesday, the Royal Family released their 2017 Gift List and what did Markle get for her first royal gift? An apron. Why oh why.
The list simply states that the apron was gifted by a Finnish "individual" to the Duke of Cambridge on behalf of "HRH Prince Henry of Wales and Ms. Meghan Markle." The list also had some various other gifts on it like books and a bottle of gin, nothing out of the ordinary. Well, aside from the fact that no one ever thinks of the Royal Family getting some books and biscuits as gifts. But this one stands out.
Listen, I am sure there are plenty of men out there who own aprons. There are plenty of men who love to cook and male chefs outnumber women in the food world. But giving a woman who is about to be married an apron has a slightly different connotation.
Because the idea that a women's place is in the kitchen is something that Markle has been very vocal about pushing against. She made a point to comment against that kind of thinking during her UN Women speech for International Women's Day in 2015. Check it out, starting at around the 1:15 mark.
Not only is Markle a UN Women Ambassador, but she has been campaigning for women's rights since a very young age.
At age 11, Markle appeared on Nick News and spoke to host Linda Ellerbee about gender issues. Markle recounted seeing a commercial for Ivory dish soap which said, "women all over America are fighting greasy pots and pans," and wanting the sexist language to be changed from "women" to "people." The young Markle wrote letters about the issue to the company and even then-First Lady Hillary Clinton. "If you see something that you don't like or offended by on television or any other place, write letters and send them to the right people and you can really make a difference," Markle said during the Nick News segment. She started young and hasn't stopped since.
And when it comes to Markle's acting career, she's been outspoken about how her Suits character Rachel is portrayed. During the One Young World conference, Markle made a point to encourage women to know their worth and stand up for themselves.
This season every script seemed to begin with 'Rachel enters wearing a towel,' and I said, 'Nope, not doing it anymore. Not doing it.' And I called the creator, I was like, 'It's just gratuitous. We get it, we've already seen it once.' So I think at a certain point you feel empowered enough to just say no. I think it's a challenging thing to do if you don't know your worth and your value.
So it's not surprising that some fans were pretty upset.
TIME, however, points out that the apron is actually a sweet gift, citing how Prince Harry proposed while the two were sharing a home-cooked meal.
Sure, it's cute. Maybe the gift wasn't meant in poor taste. Maybe the unidentified individual actually meant it for both the Prince and Markle to share and use while they adorably whip up some meals together. She did run that lifestyle blog, after all.
Some people on Twitter felt that the apron represented more of a sweet sentiment than anything offensive.
Since her engagement to Prince Harry, Markle has had to face some pretty troubling backlash, including racism. For instance, During the Queen's annual Christmas lunch, one of Markle's future royal relatives came under fire for wearing a racist "blackamoore" brooch. Then on Jan. 14, UK politician Henry Bolton's girlfriend was caught saying racist things about Markle via text, including that Markle will "taint" the Royal Family with "her seed." Which is just terrible to even read.
Overall, it's clear that Markle is an intelligent and empowered woman that the Royal Family is lucky to have. Aprons or no.