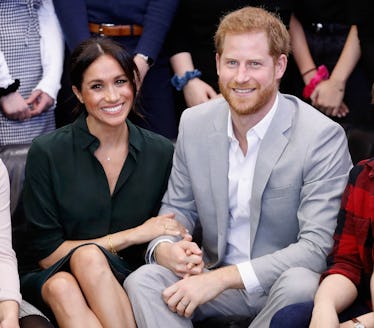 Meghan Markle May Have Given A Hint About Her & Harry's Baby's Name Already
Chris Jackson/Getty Images Entertainment/Getty Images
Meghan Markle may already have a name picked out for her first child with Prince Harry! And it's one she possibly picked out years before she was ever a royal. When news broke that Meghan and Harry are expecting their first child, news outlets began unearthing as much information about the royal pregnancy as they could. As it turns out, the Duchess of Sussex revealed a clue about her first child's name a while ago. Meghan Markle's first baby name clue is unexpected, but so sweet.
So, what's the baby's name going to be? Well, no one knows that just yet, but what is known is that Meghan has a gift waiting for when he or she arrives. When it was announced by Kensington Palace that Meghan and Harry would welcome their first child in 2019, Entertainment Tonight uncovered a 2015 interview Meghan gave to Hello! Magazine. In that interview, Meghan revealed that she had some special things in mind for her unborn child.
"I've always coveted the Cartier French Tank watch," she told Hello! of one of her first big splurges. "When I found out Suits had been picked up for our third season — which, at the time, felt like such a milestone — I totally splurged and bought the two-tone version."
Then she explained that the watch will eventually go to her child. "I had it engraved on the back, 'To M.M. From M.M.' and I plan to give it to my daughter one day. That's what makes pieces special, the connection you have to them," she said.
Clearly, Meghan had the watch engraved as way to remember that she'd bought herself something nice. And the fact that she plans to give the watch to her future daughter is such an empowering thing to do!
So, all that said, does that mean her unborn child with Harry will have a name that starts with M? That remains to be seen, but if the baby's first name doesn't start with M, perhaps his or her middle name will. Whatever Meghan and Harry end up naming the baby, the watch will be an awesome gift nonetheless. And the baby itself will definitely be the greatest gift for Harry and Meghan.
Kensington Palace announced the exciting baby news on Twitter on Monday, Oct. 15 with a brief, but sweet message.
"Their Royal Highnesses The Duke and Duchess of Sussex are very pleased to announce that The Duchess of Sussex is expecting a baby in the Spring of 2019," Kensington Palace wrote on Twitter.
The new royal baby is reportedly expected to arrive in April or May. Maybe he or she could share a birthday with cousin Princess Charlotte, who was born on May 2.
Meghan and Harry's baby is just one exciting thing going on in the royal family right now. On Friday, Oct. 12, Princess Eugenie married her longtime love, Jack Brooksbank. And Kate Middleton's sister, Pippa, is due to give birth any day now. So, it's an exciting time to be a royal, for sure. The family is growing at a rapid pace and it seems like they couldn't be happier.