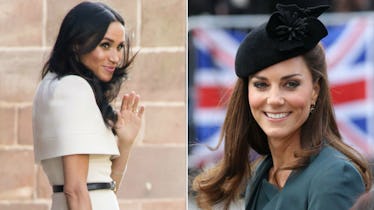 Meghan Markle's First Solo Event With The Queen Had A Major Difference From Kate Middleton's
Anthony Devlin/Getty Images Entertainment/Getty Images; Oli Scarff/Getty Images Entertainment/Getty Images
Meghan Markle, Duchess of Sussex, made her first official appearance alongside the Queen on Thursday, June 14. And having now seen all the highlights from the day's events, people are naturally comparing Meghan's outing to the Duchess of Cambridge Kate Middleton's first appearance with the Queen in 2012. So, what's the big deal about all this anyway? Well, Meghan Markle's first appearance with the Queen happened a lot sooner than people anticipated.
It's been just about a month since Meghan married Prince Harry, Duke of Sussex, and already her presence is being required on solo trips with the Queen. That's a stark difference to Kate's first official appearance with the monarch. Hers took place nearly a whole year after she married Prince William, Duke of Cambridge.
The Duke and Duchess of Cambridge married on April 29, 2011. Kate's first appearance with the Queen was on March 8, 2012. She and the Queen joined Prince Philip, the Duke of Edinburgh, on a trip to Leicester as part of the Queen's Diamond Jubilee tour. Their trip included visits to De Montfort University and Leicester Cathedral.
At the time, Dr. Julie King, head of the School of Fashion and Textiles, told People that Kate and the Queen seemed "relaxed" together:
They seemed very relaxed together. The Queen has been doing this for so long and is so experienced and just seems to set everyone at ease. And Kate's got that manner as well.
King also explained that her students found Kate relatable because of her fashion sense, which, to be honest, sounds a lot like how people feel about Meghan! Here's what King said about Kate's style at the time:
She dresses in British designers and mixes them with High Street which a lot of people do day to day. She's very much got a modern look.
In contrast, Meghan's first solo appearance with the Queen happened much sooner — just four weeks after marrying into the family. She and the Queen traveled to Cheshire, England to attend the official opening of Mersey Gateway Bridge and Chester's Storyhouse Theatre.
The appearance was marked by a lot of sweet moments, including Meghan sharing a few laughs with the monarch, as well as asking her about royal protocol (which she's hasn't quite gotten down yet!).
Here's a peek at Meghan asking the Queen who should enter their car first:
The Queen appears to take that question in stride and simply lets Meghan have the first pick of seats, which is super sweet.
Needless to say, things are moving pretty fast for Meghan. But that's not unusual for the new duchess or her husband.
Meghan enjoyed a quick-moving, whirlwind romance with Prince Harry. But the world didn't exactly expect Meghan to be welcomed into the royal clutches with such open arms. Perhaps it's because the royal family seems to be iffy about newcomers and outsiders... at least to the outside world looking in.
With Meghan, though, they seem to have taken to her rather quickly and it's really endearing to see, especially since Meghan is still learning the ropes of life as a royal. Like when she asked her husband whether it was time to curtsy during the Trooping the Colour event.
Here's how that cute moment played out on camera:
Kate, on the other hand, is such a pro at this stuff now that she just curtsies automatically. I'm sure the two duchesses can learn a whole lot from each other.
Hopefully, they're super supportive of each other behind closed doors. Royal life isn't easy, after all! No doubt it'll get easier with time, though.