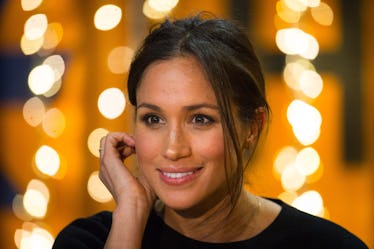 Meghan Markle Used Secret Code To Talk About Prince Harry, & It's Actually Brilliant
WPA Pool/Getty Images Entertainment/Getty Images
We all know Meghan Markle as the soon-to-be royal wife of Prince Harry, but did you also know that she's apparently a stealthy ninja who could basically be a secret agent? Why, you ask? Oh, no reason, except that her on-screen father for the USA show, Suits, just revealed to the world that Markle had a pretty sly way of talking about Prince Harry during filming. YUP, Meghan Markle used a code name for Prince Harry on the set of Suits, and now she's even cooler than she already was in my book.
It makes sense as to why Markle wouldn't just come out and talk about her relationship with Prince Harry on set: There's tons of people that make up the staff of a television show, and if you're trying to keep your relationship with someone prominent (like, you know, British royalty) under wraps, it might be difficult when you're surrounded by so many co-workers. But, for those with whom you have a personal relationship — like Wendell Pierce, who played Markle's character Rachel Zane's father — how do you tell them about your life without letting everyone know? Obviously the only effective way is to USE CODE NAMES like some badass secret FBI agent.
Wendell Pierce opened up to Harry Connick Jr. during an interview on Harry that explains how they navigated talking about Markle's personal life without revealing her relationship with Prince Harry to everyone within earshot. Pierce said,
We always talked about him in code really. You know, "How you doing?" "Oh I'm going to London, coming from London, whatever."
Aha! So Prince Harry was synonymous with "London," which, TBH, makes complete sense. It wouldn't raise any questions if people heard that she was visiting London or traveling to London, because it would just seem as though she's going across the pond for no particular reason.
So. Damn. Smart.
Pierce also told Harry Connick Jr. that he and Markle developed a very close friendship with one another while filming, and when her relationship to Prince Harry was no longer secret and the two became engaged, Pierce gave Markle some adorable fatherly advice. He said,
I had a really wonderful moment as we were coming to an end of her time on the show. It was just she and I in the room and I said, "I know your life is going to change but always know, no matter where you are, I will always be your loving fake father."
Even a fake father's advice makes me cry.
And, even though Meghan Markle will not be reprising her role of Rachel Zane on Suits, the show must (and will) go on, because USA has renewed Suits for an eighth season despite Markle's departure. (In Markle's place will be actress Katherine Heigl, who will play the role of Samantha Wheeler, a new partner at the law firm.)
While we're all just a bit sad that Markle will no longer be working on the show, it seems that she's excited for her future and doesn't regret having to leave Suits because it gave her success for many, many years. Markle interviewed with Sky News and talked about her transition. She said,
I just see it as a change ... It's a new chapter, right? And also, keep in mind, I've been working on [Suits] for seven years... I've ticked this box, and I feel very proud of the work I've done there, and now it's time to work with [Harry] as a team.
You know what they say: Teamwork makes the (royal) dream work.
You're crushing it, Meghan Markle and Prince Harry (aka London).