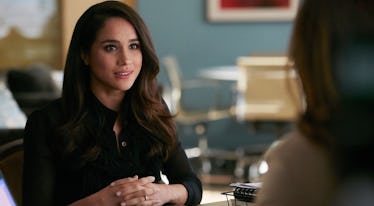 A 'Grey's Anatomy' Star Is Going To Fill Meghan Markle's Spot On 'Suits' & We're Screaming
USA
Once Meghan Markle announced that she was about to become a literal princess (okay, duchess, whatever), it pretty much went without saying that she was going to be leaving her long-running acting gig on USA's Suits. Well, now the legal drama has found her replacement: Katherine Heigl! Yep — Katherine Heigl is officially joining the main cast of Suits Season 8, per Deadline, filling the hole left by the departing Markle. So, who will Katherine Heigl play on Suits, and how will her new character change up the dynamic after the series just said goodbye to half of its lead actors? Let's get into it.
The Katherine Heigl casting news comes at a pivotal moment for Suits, after three of the show's lead actors just announced that they will not be returning for Season 8. Shortly after her engagement to Prince Harry, Meghan Markle officially revealed that she would not be reprising her role of Rachel Zane for the show's next season, and more recently, lead actor Patrick J. Adams also announced his departure from the series he has starred in since 2011. Gina Torres will also not return for Suits Season 8, but will still be in the show's family because she is helming a spinoff show. Despite three members of the main cast leaving, USA still renewed Suits for an eighth season, leaving some fans to wonder how a new season will look.
To fill the absent space in the cast, Suits is bringing in Katherine Heigl to take a new lead role. Heigl will play Samantha Wheeler, described as a talented new partner at the law firm who could turn into either a powerful ally or a fearsome enemy. It sounds like Samantha Wheeler will also be front and center in the main cast, replacing Patrick J. Adams' character of Mike Ross alongside Gabriel Macht's Harvey Specter. Whereas Harvey and Mike had more of a buddy-buddy relationship, the show is teasing that Samantha's relationship with Harvey may be more adversarial. Showrunner Aaron Korsh revealed that Heigl was a fan of the show before joining the cast, and her character will be "a direct threat" to the series' status quo:
On behalf of the entire Suits team, I am extraordinarily excited to welcome Katherine Heigl into our family – I have always been a big fan of her work and was delighted to discover she was an avid Suits fan herself. I cannot wait to have her come play with our entire cast and crew. Unfortunately, the same cannot be said for Harvey, Louis, Donna and Alex as the mysterious Samantha Wheeler is a direct threat to their status quo. One thing is for sure – Samantha's wit, charm, loyalty, strength and vulnerability will all be put to the test as she muscles her way into the firm currently known as Pearson Specter Litt.
Katherine Heigl's casting in Suits is actually pretty perfect, since she just gained some legal drama experience this past year, and with one of her new Suits costars to boot. Throughout 2017, Heigl starred in the CBS legal drama Doubt as a New York defense attorney. Oh, and her costar on that show was Dulé Hill, who just got bumped up to a series regular on Suits. Although Doubt got cancelled, it looks like Heigl and Hill will, in a way, get to continue the series on Suits.
The currently-airing Suits Season 7, which still stars Meghan Markle, Patrick J. Adams, and Gina Torres, will continue continue to air until April. Katherine Heigl's season is expected to premiere in the summer of 2018.