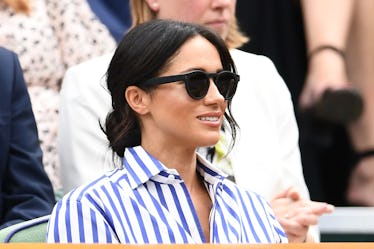 Meghan Markle's 2014 Birthday Message To Herself Will Make You Like Her Even More
Clive Mason/Getty Images Entertainment/Getty Images
Years before Meghan Markle won the heart of Britain's most eligible bachelor, she was living her best life building a career for herself as an actress, advocating for women's equality, and even working as a global ambassador. As Markle rang in her 37th birthday on Aug. 4, a reflective post about self-acceptance that she wrote four years ago has re-surfaced, giving fans some new insight into how she became that person, as well as the confident, poised royal that she is now. Honestly, Meghan Markle's 33rd birthday message to herself is so relatable, and it's the empowering message you need in your life today.
As the Duchess of Sussex turned 37 on Saturday, fans used the milestone as an excuse to look back at her past birthdays, and they found a gem in her since shuttered lifestyle blog, The Tig, per People. Back in 2014, Markle was in her early 30s and becoming a household name with her role as Rachel Zane on Suits. She was also coming to terms with her journey to self-acceptance, which included the realization that she was "enough." Markle explored that concept in a post shared on her 33rd birthday.
"You need to know that you're enough. A mantra that has now engrained itself so deeply within me that not a day goes by without hearing it chime in my head," Markle addressed her readers in the unearthed blog post from 2014. "That five pounds lost won't make you happier, that more makeup won't make you prettier, that the now iconic saying from Jerry Maguire – 'You complete me' – frankly, isn't true. You are complete with or without a partner. You are enough just as you are." Preach, girl.
However, that realization took a while to click. She revealed that she spent most of her 20s trying to fit in, especially as a young biracial woman who felt like she didn't have a group.
It's hard to believe, seeing how confident the Markle is as the Duchess of Sussex, but she admitted in the post, "My 20s were brutal – a constant battle with myself, judging my weight, my style, my desire to be as cool/as hip/as smart/as 'whatever' as everyone else." That all changed when she was 24, when she recalls a casting director telling her, '"You need to know that you're enough. Less makeup, more Meghan.'"
She then advised followers of The Tig, "I want you to be kind to yourself. I want you to challenge yourself. I want you to stop gossiping, to try a food that scares you, to buy a coffee for someone just because, to tell someone you love them…and then to tell yourself right back. I want you to find your happiness."
It's been a birthday tradition for Markle to reflect on her growth and look to the future with a birthday wish, a tradition she attributes to her mom, per Cosmopolitan. And although it sounds like Markle didn't need Prince Harry to find her happiness, I believe that her 2016 birthday resolution to be more adventurous and take life a little less seriously could have helped her to meet her future husband later that year.
"More surprises, more adventure, more opportunities to grow, more days filled with giggles and cheeky jokes, more delicious meals, and more inspiration. Always more inspiration," she wrote as her birthday wish in 2016, per Cosmopolitan. You know, as if you needed yet another reason to love the newest royal.
Unfortunately, People reported that Markle shut down her website last August and there's a big chance that she won't be sharing her birthday wish with us this year, but I'm hoping that whatever it is comes true.