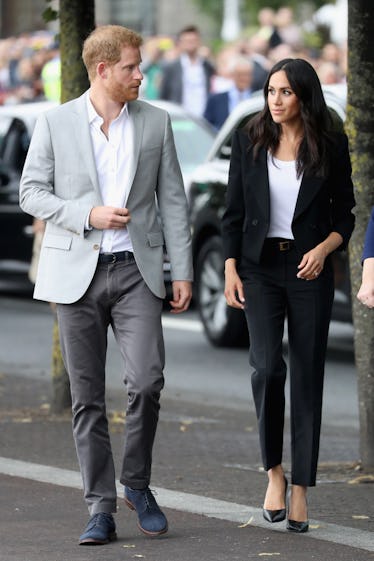 Meghan & Harry Are Considering An "Aggressive" Response To Her Family's Antics, Apparently
Chris Jackson/Getty Images Entertainment/Getty Images
The distant relationship between Meghan Markle and her father Thomas Markle and half-sister Samantha Markle is causing quite the stir for the royal family. And now Prince Harry and Meghan, the Duke and Duchess of Sussex, are scrambling to figure out the best way to handle the situation. So, how are they going to handle the whole thing? Well, according to new reports, Meghan Markle and Prince Harry's response to Samantha and Thomas might be more "aggressive" than expected considering the royals' usual practice of remaining totally silent on most scandals. Elite Daily reached out to Kensington Palace regarding these reports, but did not hear back by the time of publication.
To catch you up on the situation, Thomas and Samantha have exposed all of Meghan's family business to the media, saying that she doesn't talk to her dad or his side of the family anymore. The implication is that she's shunned them completely since becoming part of the royal family, but the Duchess of Sussex is reportedly handling it on her own terms.
In a new report from Entertainment Tonight, a source close to the situation revealed that Meghan's relationship with her father has reportedly seen some tough times, even before she was a royal.
"She has gone through periods of difficulty with her father in the past, but she does love him," ET's source explained. "That's what's been so difficult about this."
The same apparently can't be said for Meghan's half-sister, Samantha, whom the source suggests may be exaggerating the extent of her past relationship with Meghan in her many reported Twitter rants. The source claims the palace is "less concerned" about Samantha than Thomas "because she has never had a real relationship with Meghan."
ET's insider source went on to explain that Meghan and Harry are currently weighing their options. They are reportedly considering a more "aggressive" approach to the situation as a whole, which must be devastating for Meghan.
The insider source revealed, "The Palace, who normally takes a firm policy of not commenting on personal matters, is now considering a more aggressive strategy to deal with the situation with both her father and her sister. No one wants to see this continue."
Unfortunately for all involved, this situation has escalated to a point where action needs to be taken, and the fact that Meghan and her dad aren't on speaking terms at the moment isn't helping.
A second insider source told ET that Meghan and Thomas haven't been in contact since the royal wedding back in May.
"She has not spoken to her father in more than 10 weeks since her wedding and is still hurt by her father, who has both staged the photos and continues to give paid interviews," the source explained to ET.
This second source also reinforced the idea that the Palace is considering an "aggressive" strategy to handle the family's woes.
"The Palace is at a loss of what to do and is re-evaluating options, including a more aggressive strategy to stem the embarrassment caused by Meghan's dad, half-sister and half-brother," the second source told ET.
Overall, it sounds as though Kensington Palace is really taking into consideration how sensitive the situation is for Meghan. It's her family, after all, and the duchess, her husband, and the rest of the royal family have been extremely patient in dealing with everything Thomas and Samantha have thrown their way these past few months. With any luck, this painful chapter in royal family history will come a peaceful close sometime soon.