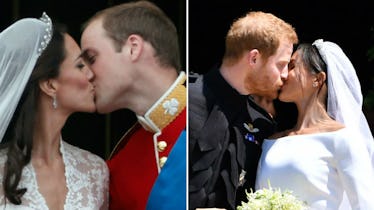 Meghan Markle, Kate Middleton & Princess Diana Approached Royal Marriage So Differently
Christopher Furlong/Getty Images Entertainment/Getty Images;WPA Pool/Getty Images Entertainment/Getty Images
With royal wedding fever still going strong, lots of people are comparing the royal nuptials of today to the ones of years' past. There's absolutely no question that the British monarch's views on marriage have evolved, modernized, and loosened up quite a bit in less than half a century. And Meghan Markle, Kate Middleton, and Princess Diana's royal marriages have all proven that.
Each of these dazzling ladies approached royal marriage in a completely different way. And in case you're not brushed up on your royal marriage history, I've pulled together some facts, quotes, and other bits of interest that'll help you understand just how different their marriages are.
Meghan Markle
The marriage of Meghan Markle, Duchess of Sussex, and Prince Harry, Duke of Sussex is probably the freshest in your mind right now. And anyone who followed the progression of this relationship knows it was a whirlwind romance.
Harry and Meghan totally fell for each other and there was just no stopping them. Not even royal tradition could stop them from spending the rest of forever together. Not to mention that they did it on their own terms... well, as much as the Queen would allow, anyway.
Here's how Meghan explained their passionate romance to Vanity Fair in 2016:
We're in love. I'm sure there will be a time when we will have to come forward and present ourselves and have stories to tell, but I hope what people will understand is that this is our time. This is for us. It's part of what makes it so special, that it's just ours. But we're happy. Personally, I love a great love story.
Even though that was still very early on in the relationship, there's no doubt that she's over the moon about being his wife today.
They still look at each other like there's no one else in the room, so that's really sweet.
Kate Middleton
In comparison, Kate Middleton, Duchess of Cambridge, and Prince William, Duke of Cambridge, took their sweet time to get married. The two started dating way back in 2003 and didn't tie the knot until 2011.
Overall, this is a couple that has essentially grown up and matured together. So, naturally, their relationship is much different than that of Harry and Meghan.
Here's how Kate described her and William's love even before they got married:
You know, over the years William has looked after me, he's treated me very well — as the loving boyfriend he is, he is very supportive of me through the good times and also through the bad times.
Kate also referenced the marriage of Queen Elizabeth and the Duke of Edinburgh as a source of inspiration for her own:
All the time William and I are so struck by the Queen's sense of duty and commitment. And I think to do that by yourself would be a very lonely place to be. But I think to have the support of your husband there by your side on those occasions — and behind closed doors as well — I think is really special.
So, William and Kate's marriage is rooted in a deep bond as well as royal tradition.
Princess Diana
It's natural for people's minds to rest on the late Diana, Princess of Wales, whenever they think of Kate and Meghan. She was William and Harry's mother, after all. Unfortunately for Diana, her marriage wasn't quite as happy as she desired it to be.
She was only 19 when she married Prince Charles and he apparently didn't see love in the same ways that she did.
In a documentary released in 2017, Diana can be heard in private recordings describing personal matters. Her marriage to Charles, for instance. She explained, in disgust, how Charles responded to an interview question about whether they were in love:
Charles turned around and said, 'Whatever in love means,' and that threw me completely. I thought, 'What a strange question — uh, answer.' God, absolutely traumatized me … So I went to the top lady, and sobbing and I said, 'What do I do? I'm coming to you, what do I do?' And she said, 'I don't know what you should do. Charles is hopeless.' And that was it.
How terribly sad for Diana. Clearly, the royals' perception of marriage have changed in the 37 years since Diana and Charles married. While those two were essentially paired by forces beyond their control (they only met 13 times before marrying), their sons have enjoyed a much more organic approach to marriage.