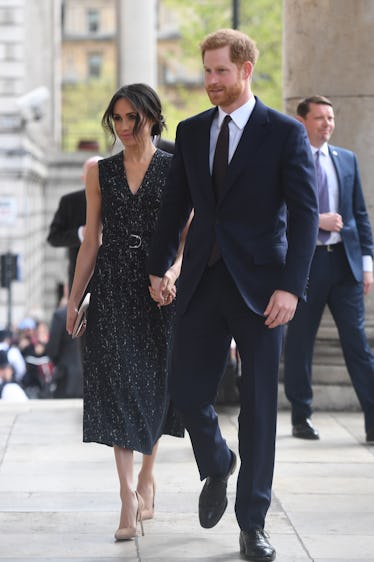 Meghan & Harry's First Appearance Since The Royal Baby's Birth Wasn't At The Hospital
WPA Pool/Getty Images Entertainment/Getty Images
It's a big day at St. Mary's Hospital, where Kate Middleton gave birth to a baby boy! Kensington Palace announced the news via Twitter on April 23: "Her Royal Highness The Duchess of Cambridge was safely delivered of a son at 1101 hrs. The baby weighs 8 lbs 7 oz. Her Royal Highness and her child are both doing well." So exciting! Fans and media all gathered outside the hospital as Kate and William appeared with the baby to take pictures with their new son on the steps and then left the hospital to head home and start their journey as a family of five. But there are two people who were missing from the hospital where Kate Middleton gave birth. Meghan and Harry's first appearance since the royal baby's birth wasn't at the hospital — it was at a memorial service.
According to Elle, Meghan Markle and Prince Harry made a scheduled appearance at St Martin-in-the-Fields church in London for the memorial service for Stephen Lawrence, a black British man who was killed in a racially charged stabbing 25 years ago while waiting for a bus in southeast London when he was just 18. The couple had the opportunity to meet with Lawrence's brother Stuart and his mother, Baroness Doreen Lawrence, and Harry later gave a speech during the service in order to properly honor Lawrence's life and legacy.
Also in attendance was the UK Prime Minister Theresa May, who announced that April 22 will be Stephen Lawrence Day in the UK, a national day of commemoration.
Markle — whose mother is African-American and father is Caucasian — has recounted her own experiences with racism in the past. In 2015 she wrote an essay for her now-defunct website, TheTig.com, that detailed the time her mom was the victim of a racial slur as she was leaving a concert at The Hollywood Bowl.
"A woman called her the 'N' word because she was taking too long to pull out of the parking spot," Markle recalled. "I remember how hot my skin felt. How it scorched the air around me."
Harry has also spoken out against racism in the past, including in a 2016 public statement condemning the racist attacks on his fiancée in the press.
"Meghan Markle has been subject to a wave of abuse and harassment," a statement issued by his press secretary read. "Some of this has been very public — the smear on the front page of a national newspaper; the racial undertones of comment pieces; and the outright sexism and racism of social media trolls and web article comments. Prince Harry is worried about Ms. Markle's safety and is deeply disappointed that he has not been able to protect her. It is not right that a few months into a relationship with him that Ms. Markle should be subjected to such a storm. He knows commentators will say this is 'the price she has to pay' and that 'this is all part of the game'. He strongly disagrees. This is not a game — it is her life and his."
Meghan echoed the sentiments during the couple's engagement interview with the BBC. "It's disheartening," she said. "You know it's a shame that is the climate in this world to focus that much on that . . . but I think, you know, at the end of the day I'm really just proud of who I am and where I come from, and we have never put any focus on that."
Harry and Meghan will tie the knot in St George's Chapel at Windsor Castle on May 19.