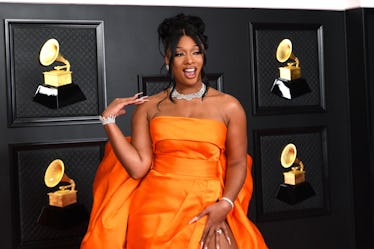 Megan Thee Stallion Had The BEST Reaction To Lizzo Swearing While Presenting At The Grammys
Kevin Mazur/Getty Images Entertainment/Getty Images
The 2021 Grammy Awards was full of unexpected moments, including a hilarious interaction between Megan Thee Stallion and Lizzo. It all started when the "Good As Hell" singer went on stage to announce the winner for Best New Artist. Lizzo was so excited to be back on the show, she accidentally cussed on live TV. It was obviously unexpected, but no one was as surprised as Megan, who was sitting in the audience waiting to hear the results of the Best New Artist award in person. You'll laugh when you see Megan Thee Stallion's reaction to Lizzo swearing at the 2021 Grammys because it was iconic.
Lizzo appeared at the Grammys for the first time in 2019. She was the most nominated artist that year, snagging eight nominations including nods in the big four categories — Record of the Year ("Truth Hurts"), Album of the Year (Cuz I Love You (Deluxe), Song of the Year ("Truth Hurts"), and Best New Artist. She ended up winning Best Urban Contemporary Album, Best Pop Solo Performance, and Best Traditional R&B Performance. With all her wins, Lizzo just had to reference her "three shiny Grammys" during her 2021 Grammys speech announcing Best New Artist. "WOOO!" Lizzo shouted. "B*tch, I'm back!"
It was the ultimate flex, but judging by the face she made afterward, she regretted cussing as soon as the words came out. "Oh, god. Oh, I'm so sorry," Lizzo said, before laughing at her TV fumble.
As if the moment couldn't get any more iconic, Megan's reaction to Lizzo swearing made it even funnier. Lizzo even had to ask her to stop laughing because it was distracting her while presenting. Fans called it "the award show moment of the year."
"Lizzo telling megan to stop laughing at her for accidentally saying b*tch on air pls i'm crying," a fan tweeted.
"Not lizzo swearing and megan thee stallion laughing at her, I'm dead," another wrote.
Their hilarious interaction didn't stop there. Lizzo struggled to open the envelope to announce the winner of Best New Artist, who turned out to be none other than Megan Thee Stallion. You could even hear someone in the background yelling, "Use your nails, girl!"
To top it all off, Lizzo and Megan accidentally hugged when they were supposed to be socially distanced.
The 2021 Grammy Awards were definitely unforgettable to say the least.