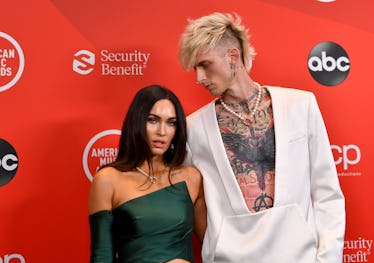 Megan Fox & Machine Gun Kelly's Red Carpet Body Language Is Surprising
Emma McIntyre /AMA2020/Getty Images Entertainment/Getty Images
I'm not trying to be a buzzkill, but Megan Fox and Machine Gun Kelly's AMAs red carpet body language is, um, not what you'd expect from the passionate pair. See, the couple has been extremely open about their intense connection. "Loving him is like being in love with a tsunami or a forest fire," Fox told Nylon in a Nov. 17 story about her beau. "The intensity of merging with him is just overwhelming, and the threat it poses is so powerful but so beautiful that you have no choice to surrender with reverence and with gratitude." In the same interview, she also noted that they share a connection of "mythic proportions." And in July, she famously went so far as to refer to him as her "twin flame," saying that she thinks they're "actually two halves of the same soul."
So, when the couple made their first red carpet debut at the 2020 American Music Awards on Nov. 22, you can see why I was expecting chemistry like fireworks.
But according to a body language expert, that wasn't quite the case. "This is not what I'd expect from a couple who's gushing over each other," says Traci Brown, body language expert and author of Persuasion Point: Body Language and Speech for Influence after examining their pictures. Brown describes their body language as "almost emotionless."
Ready for her analysis?