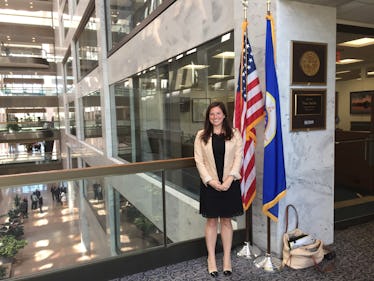 Meet The Millennial Lobbyist Fighting For Young Americans On Capitol Hill
Courtesy of Association Of Young Americans
It's undeniable that all over the world, young people are making waves. From gun control to higher education, the millennial generation has proven itself as one that shouldn't be underestimated. From taking action on issues like gun control to taking charge and running for office, millennials are stepping up and doing things for themselves. In case you weren't already totally impressed by today's activism, this one organization will have you completely inspired.
The Association of Young Americans (AYA) was created by founder Ben Brown in 2012, and from there the organization has dedicated itself to "giving young people a seat at the table," per their website. The group of lobbyists and activists fight for change on issues that affect young people today, such as student debt, political equality, criminal justice, and climate change. Ally Bernstein, 29, is just one of these lobbyists connecting with prominent politicians in Washington D.C., with a focus on improving higher education for young Americans. Elite Daily chatted with Ally about why it's important for young people to be involved in politics, her advice for the younger generation, and what it's like to be a young person advocating for change on Capitol Hill.
Being young in any profession is difficult, but being young in politics is especially difficult.
Bernstein's focus as a lobbyist is on student debt and higher education reform, which are the two issues which perhaps affect millennials the most today. According to AYA's website, 42 million Americans have student debt, totaling more than $1.2 trillion. Through their activism, AYA hopes to introduce legislation that will refinance student loans, introduce new solutions to pay off student loan debts, and make it required that colleges release information about paying off student loans prior to school enrollment.
As a lobbyist for AYA, Bernstein's daily routine usually consists of introducing representatives and other members of Congress to the organization's mission, and serving as a direct liaison between AYA and Congress to highlight the issues that young Americans are fighting for today. Over the past two years, Bernstein has fought for reforms including student debt relief, technology advancement, budget increases, and more. She believes education reform is the key to creating a better equipped and more politically minded society.
"I think the more educated that people are on the subject on why education matters, the better the future of our country will be," Bernstein says. "Having an educated society really affects all other professions, and our federal government has a really big role to play in ensuring our nation's students are educated and have equal access to education."
A huge part of Bernstein's role as a lobbyist is finding and spotlighting members of Congress introducing acts of legislation that are pertinent to young people today. Among them is Rep. Suzanne Bonamici (D-Oregon), who helped pass the Every Student Succeeds Act in 2015, which advocated for educational decisions to be made at a local and state level. Bernstein calls Bonamici as a "champion for education," through her work to lower student debt and guarantee students from all walks of life have access to higher education, and cites her as a perfect example of the kind of politician that AYA supports.
"She is an overall champion for champion for education, lowering student debt, making sure students from all walks of life, from all areas of the country have an opportunity to go to a community college," Bernstein says. "That's the kind of representative that we help support and lift up into the spotlight, because she is the voice for change in Congress."
Although Bernstein makes it look easy, her journey to become a lobbyist was certainly hard work. In the beginning, the young activist thought she would be working with environmental groups, but eventually she decided that higher education reform had an impact that was more meaningful. From there, she threw herself into her work by joining coalition boards, which are alliances focusing on certain issues and parties.
"I joined multiple coalitions, sat on boards, threw myself into the education policy world in order to make sure all students have an adequate and equal education," Bernstein says.
You won't get anywhere in politics as a woman unless you really push yourself.
As a millennial on Capitol Hill, Bernstein admits that the stereotype of her generation being lazy and entitled can often get tiresome. However, Bernstein points out that the generation is actually the ones spearheading change across nations.
"Being young in any profession is difficult, but being young in politics is especially difficult," Bernstein says.
She continues,
The stereotype of millennials being lazy and having everything handed to them does get old because we're the ones who are inventing this new technology and leading powerful movements that are sweeping the nation right now. You're seeing a lot more younger people, including millennials, at the helm of these exciting movements for the betterment of our country.
This generation is impacting the future, so naturally they need lobbyists to speak on their behalf and serve as direct links to Congress. As an AYA lobbyist, Bernstein is proud to represent young Americans who are passionate about relevant issues and want to see their country become a better, stronger place.
But while the passion boiling within young activists today is inspiring to all of us, but not everyone knows where to jump in and get involved. For young people who want to get involved in activism but are unsure how to start, Bernstein has you covered.
"Put yourself out there," Bernstein says. "I wouldn't have gotten anywhere if I hadn't have thrown myself into coalition meetings and spoken up and just asked questions. Keep pushing. Keep sending emails and research. You won't get anywhere in politics as a woman unless you really push yourself."
It's so inspiring to work with young staff on policies that are going to effect our future generation.
Rubbing shoulders with Capitol Hill's elite might sound like an intimidating experience, but after years of fighting for higher education on behalf of unheard voices, Bernstein is nothing but grateful for the opportunity. Sure, it can be difficult at times, but being able to say that the work you do truly impacts so many lives makes the difficulty so much easier.
"It's really humbl[ing] and invigorating," Bernstein says. "I know that the work I'm doing on behalf of my clients and constituents makes life better for children, students, and young Americans. It's so inspiring to work with young staff on policies that are going to effect our future generation including myself, themselves, AYA members, and their future families."
Gone are the days when the game of politics was reserved for the older generation. Clearly this organization, and this millennial activist, are proving young voices are forces to be reckoned with.