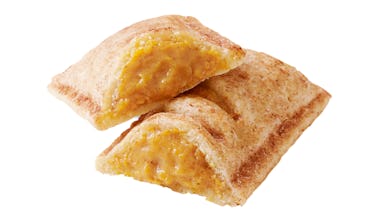 McDonald's Just Brought Back Their Pumpkin Pies For Your Early Turkey Day Cravings
McDonald's
It's no secret that 2018 has officially jumped the gun on the holidays, but TBH, I'm not mad about it. The Golden Arches are the latest to get on that bandwagon by rolling out a holiday treat to tide over your taste buds until you can actually dig into your Thanksgiving spread, and Twitter is feeling so blessed about the retailer's newest menu item. That's right: McDonald's pumpkin pies are back for your early Turkey Day cravings at select U.S. locations, so put your apple pie turnovers to the wayside and treat your sweet tooth with these seasonal bad boys.
According to a McDonald's rep, the seasonal favorite is making its return to participating locations for "a limited time," meaning that you can head to your nearest Mickey D's and enjoy the flavors of the season right now, no nosy relatives or stressful Thanksgiving travel required. For just 89 cents (or two for $1.50, according to blogger Brand Eating), you can live your best pre-Turkey Day life with a "smooth, rich pumpkin filling baked in a tender and flaky pastry crust and dusted in cinnamon sugar." I don't know about you, but my mouth is full-on watering right now. Unlike fellow fall dessert apple pie, pumpkin pie is traditionally restricted only to the holidays, so one bite of the velvety smooth, spiced concoction (covered with a generous layer of cool whip, of course) is always guaranteed to put me in the merriest mood of the year. It's basically all the holiday feels in pie form, and in my honest opinion, it's an essential part of any Turkey Day spread.
Of course, McDonald's spin on a pumpkin pie isn't exactly the real deal that you're getting post-Thanksgiving feast. After all, it's a turnover, not an actual pie, and there's no hint of any whipped cream to top off the confection, but it'll definitely help tide you over until you can get your fix on Thursday, Nov. 22. Per a McDonald's rep, the chain bakes its pies daily at its restaurant locations, and it looks like people are already McLovin' the seasonal offering. The Twitterverse is airing its thoughts on the social media platform, and from the sounds of things, customers are surprised that McDonald's pumpkin pie is as tasty as it is.
While some have criticized the holiday treat for being "bland" in past years, I wouldn't be surprised if the golden arches have tweaked the recipe in light of their slightly contentious revamp of their iconic apple pie turnovers earlier this year. Like the 2018 version of McDonald's apple pie, this year's pumpkin pie goodies are also fresh-baked and, from the sounds of things, are also now chock full of flavor. However, it also sounds like the retailer has taken notes from customer criticism of the apple pie's healthier changes and decided to keep the "cinnamon sugar dusting" that we've come to know and love.
In other words, it sounds like McDonald's faithfuls are getting the best of both worlds with this year's pumpkin pie offerings, so I'd recommend giving the seasonal treat a try the next time you're there. The countdown to Thanksgiving is officially here, y'all, and it sounds like it's especially delicious this year.