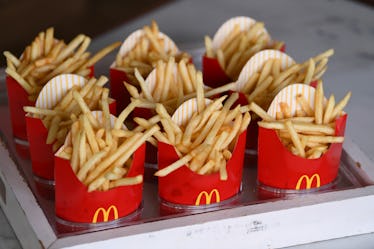 McDonald's Cheesy Bacon Fries Will Reportedly Roll Out Nationally In 2019 For A Happy New Year
Dave Kotinsky/Getty Images Entertainment/Getty Images
McDonald's loves experimenting with new menu items. In the '80s and '90s, the burger chain tried to go Italian with McPizza, lasagna, and spaghetti, which didn't really take. A few years ago, the company tried to make its three-piece mozzarella sticks gain some traction, but those didn't really stick either. Now, the fast food burger chain is testing out a new product in some U.S. markets — cheesy bacon fries. Though the item is only available at participating locations right now, McDonald's cheesy bacon fries could get a national rollout in 2019, per a report from Business Insider — and completely change the fast food French fry game as you know it.
McDonald's started serving cheesy bacon fries in Hawaii and Northern California locations in November 2018, per Nation's Restaurant News. but a source familiar with the company told Business Insider that the meaty, cheesy snack will be rolled out all over the U.S. in early 2019. Elite Daily reached out to McDonald's for comment on the report that the cheesy bacon fries will roll out to all U.S. locations in 2019, but did not hear back at the time of publication.
The fast food chain wasn't totally silent on the matter, though. In a pun-filled statement to Business Insider, a McDonald's representative said there was no information about the reported 2019 national rollout at this time, telling the publication, "I'm afraid I'll have to provide a cheesy no comment. At this moment, our kitchens are bacon-ing something together. But we're not yet ready to share the gouda news." LOL, Mickey D. Whether or not it's the same fries topped with "cheese sauce and smoked bacon bits" heading to restaurant locations in 2019, it sure sounds like something's up at McDonald's HQ.
Those who have not yet tried the loaded fries are taking to Twitter to express their excitement:
According to Nation's Restaurant News, a McDonald's location in Stockton, CA is selling the fries for $3.75, so if there is indeed an national rollout, customers can likely expect to pay somewhere within that price range for the snack. The official McDonald's website provides some additional details about the item, like a nutrition summary, ingredients list, and allergens, which include wheat and milk.
If you're not in a location with a McDonald's that already sells these cheesy bacon dreams, worry not because you can get your loaded fast food fry fix elsewhere while you wait for a potential national rollout from McDonald's. For example, Arby's Loaded Curly Fries are made with a mixture of cheddar sauce, shredded cheddar cheese, bacon, and ranch, all slathered onto delicious, thick curly fries.
Though the national rollout of the cheesy bacon fries has yet to be confirmed by McDonald's, it's likely that the fast food company will introduce some new menu items in 2019 (or bring back some old faves) to keep up with competition from other fast food chains like Burger King and Wendy's. So let's enjoy the rest of the year in cheerful anticipation of all the fast food goodness 2019 will bring.