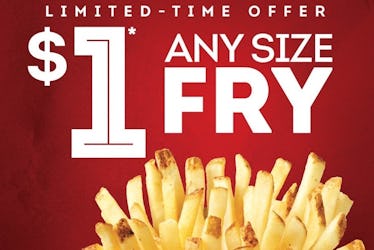 You Can Get $1 Fries At Wendy's This Holiday Season For A Merry Fry-Mas
There is quite literally nothing in this world that says "holiday cheer" like a solid food discount. And in the name of Christmas, Hanukkah, and Kwanzaa, Wendy's $1 Any Size Fry offer for December 2018 has been extended all the way to Dec. 26. If you ask me, this is a freaking holiday miracle, and you can bet your bottom dollar that almost every day of December is about to become a marvelous fry-day.
On Friday, Nov. 30, the home of the square hamburger announced some undeniably glorious news. According to a press release, the restaurant chain has very graciously extended its $1 Any Size Fry offer all the way through Dec. 26. That's right — if you decide to visit any participating Wendy's restaurant, you will be able to enjoy a small, medium, or large order of french fries for only one buckaroo. Four quarters. Ten. Freaking. Dimes. That's a unbelievable bargain, if you ask me, and honestly, I'm gonna have to get on that as soon as humanly possible. Just keep in mind that the offer isn't valid with any combo meal — you'll have to pay for the fries on their own. But in all honesty, that's fine by me.
OK, this might be a slight generalization, but in my personal opinion, dollar french fries are everybody's dream deal. So, as you probably would have imagined, Twitter is absolutely head-over-heels in love. I mean, how could anyone resist sea-salted, natural-cut French fries for less than a fiver? I know I can't resist, and the Twitterverse is not even trying to hold back their sheer excitement. Make sure to check out their exuberant responses to the Any Size Fry deal extension, below. You'll be happy you did.
See all of that cheer right there? That, my friends, is the true meaning of Christmas.
Anyway, if you're all about getting in on discounts and freebies this holiday season, DoorDash recently announced a seriously sweet deal. As of Dec. 5 at 2:30 p.m. ET, DoorDash is going to be giving away 40,000 slices of free cheesecake for the Cheesecake Factory's birthday. Just order it through the DoorDash app or website, and make sure you enter the code "FREESLICE" at checkout. There are no minimum or additional fees, because DoorDash will be waiving delivery and service fees, as well as the subtotal minimum. So, you'll be getting a free slice of cheesecake which usually goes for about $8.96. The deal officially ends on Dec. 11, so get it while it's hot. Santa Clause is coming to town? More like DoorDash, y'all.
Having to pay an exorbitant amount of money on Christmas presents can be pretty discouraging, so month-long food discounts are where it's at right now, people. Wendy's is totally coming in clutch by extending their $1 Any Size Fry deal this holiday season, so all of you can make that single dollar go a very long way. Fry-day for daysss.